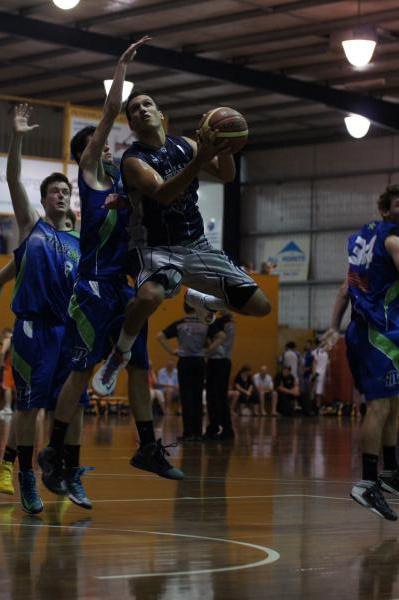 EVEN with the challenges associated with a new coach and a mostly new roster, the Casey Cavaliers senior men blitzed the competition by winning the Big V pre-season tournament in Frankston this long weekend.
Casey Cavaliers signalled their intent in the Big V basketball competition this season with a pre-season tournament victory in Division 2 Men with a five-point win over Melton.
The Cavaliers booked their spot in the final with a 4-0 record in the round robin stage, before knocking off Pakenham in a quarter final 55-52 and defeating Keilor 66-51.
"We were rapt – the boys had a great weekend and first and foremost we learned a lot about ourselves," Cavaliers men's coach Stewart Baird said.
"We were challenged in the grand final – about 11 down in the last quarter, but we got past them to get a solid win."
Trailing at three-quarter-time, after an inauspicious start, the Cavaliers rallied to knock in 27-14 in the last quarter to take the trophy and head into their round one match against Shepparton this Saturday night full of confidence.
Cavaliers trio of Jamie LeClerc, Steve Michelski and Jono Hawes earned the coach's highest praise, especially Hawes after a monster final quarter in the grand final, hitting three-of-three three-pointers to guide the Cavaliers to victory.
"Jamie LeClerc was fantastic all weekend – really showed me some stuff I hadn't seen from him in practice and our captain Steve Malceski – his eye came good after a knock in the first game – we rested in the second and played a bit in the third and it cleared up by the end."
The cult favourite at the club, Pouch Pouc, a 200cm 4-5 man, is catching everyone's attention with his dunking and athleticism.
"Pouch played some good minutes and developing a bit of a cult following among the supporters and is really enjoying it," Baird said.
"Big man he's about 200-201cm, very, very athletic and has a couple of very serious dunks that excited a lot of people around the building and looking forward to a few more of them this season.
"He's raw but he's come along way in the four or five months that he's been with us."
Knox recruit Dean Johnson is racing the clock to heal a broken hand for the season opener against Shepparton on Saturday night and Josh Lemi is also nursing an ankle injury heading into the season.
The Cavaliers' women also had a successful tournament, finishing third, losing their semi-final to Coburg 27-31 and the youth league men's Cavaliers were defeated in the quarter finals by Camberwell 25-56.