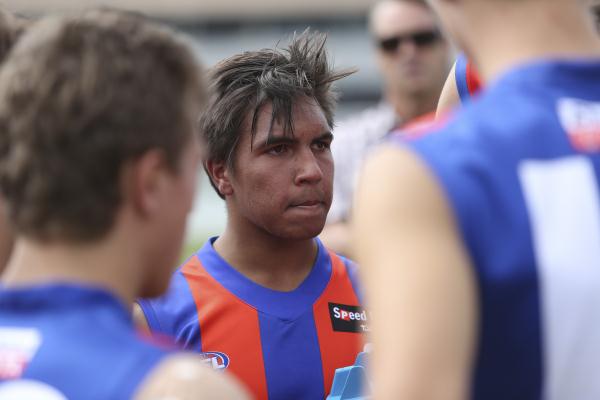 By JARROD POTTER
JAY Kennedy-Harris added another important entry to his impressive football resume – co-captain of the TAC Cup Oakleigh Chargers this season.
Kennedy-Harris, 18, from Endeavour Hills, received an early birthday present last week when he was named co-captain alongside Will Maginness for the 2013 TAC Cup season, which started for the Chargers on Sunday in their 48-point loss to the Eastern Ranges.
Kennedy-Harris played 15 TAC Cup matches last season for the Chargers and impressed in Oakleigh's grand final win over the Gippsland Power.
Chargers region manager Mark Smart said the players and staff were rapt with Kennedy-Harris's football sense and with his work ethic and his team-focused demeanour.
The playing group and the staff voted, we short-listed five players and came up with joint captains in Jay and Will Maginness," Smart said.
"We think he's very team oriented and inspirational about the way he plays – he's a terrific tackler and very team orientated.
"Having finished his schooling at Trinity College – Kennedy-Harris is now undergoing tertiary studies with a science degree and Smart said to balance university and football requirements shows his all-round capabilities on and off the field.
"Being in the private school system at Trinity – boarding at Trinity – he achieved a fantastic ATAR score and he's out of there now and attending Melbourne Uni doing a science degree – it's a credit to himself not just as a footballer, but as a great young man as well."
A former captain of the Flying Boomerangs under-15s indigenous team, alongside his cousin and current Dandenong Stingrays midfielder Clay McCartney, Kennedy-Harris has also been consistently in the Vic Metro representative set up from under-16s up to the current under-18 level.
Smart said Kennedy-Harris's football CV is enticing to AFL recruiters but admits it is still a long season with a lot that can happen between now and that magic day in November.
"He's a real credit to himself and the way he's been able to be selected for those rep squads in the last three-four years and we really look forward to him growing into the role as our captain," Smart said.
"He's been through all the talent programs and captain of the Flying Boomerangs – so he's had leadership experience there and those are strong indications he's held in great regard by AFL recruiters.
"But it's a long season, though, and there's a lot of water left to go under the bridge between now and then."
Kennedy-Harris has a chance to bounce back this weekend as Oakleigh takes on the Calder Cannons at Warrawee Park on Sunday.