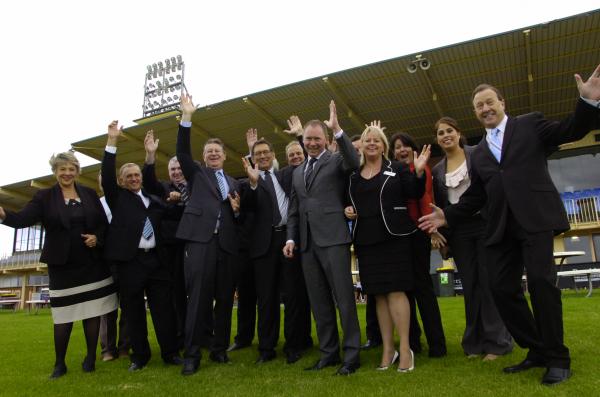 By GARRY HOWE
THE Casey community will gain a high class function and events centre with the announcement on Wednesday afternoon of a $3.6 million make-over of the Cranbourne Racing Centre grandstand.
Premier Denis Napthine announced yesterday that $1.8 million in unclaimed TAB tickets, from the Victorian Racing Industry Fund, would help finance the development.
"This is great use of government money, although I don't really like to call it government money, because we are actually using racing money," he told a crowd of stakeholders from the racing industry and local community.
"It comes from unclaimed dividends – those who haven't collected winnings or refunds from a scratching."
The remaining $1.8 million comes from the thoroughbred, harness and greyhound racing industries.
Dr Napthine said Cranbourne was one of the few centres to host all three racing codes and is famous for hosting its annual Tricodes meeting.
He said it was another example of three codes coming together for a positive outcome.
"There is great synergy here and when these groups work together you get a better outcome," he said. "It's like adding one plus one plus one to get five."
The redeveloped grandstand will feature:
A 400-seat function centre for both racing and non-racing events.
Tiered raceday seating for 150 patrons.
Expanded corporate hospitality facilities.
Modern bars, dining rooms, tote outlets, fittings and kitchens.
And a fully enclosed glass panelled grandstand.
Dr Napthine said the government had to be convinced that the project would not only benefit racing patrons, but the growing Casey and Cranbourne community as a whole.
"We looked at this hard, we don't provide money like this lightly," he said
"We had to make sure this grandstand redevelopment delivered benefits not only to the three racing codes but to the whole community.
"We are confident it will provide a function centre second to none in the community that can be used by a wide range of groups."
Dr Napthine said a number of local schools and sporting clubs were already interested in using it for the likes of graduations, balls and award nights.
He said the Cranbourne Racing Centre, which raced more than 100 times a year day and night, provided many jobs and tremendous economic benefit for the region.
"This project will create an additional 85 jobs during the construction phase and deliver a further 55 ongoing jobs when the grandstand and function centre are complete," Dr Napthine said.
"This will add to the 1400 people who are already employed at the Cranbourne Racing and Training Centre and through associated racing service industries in the region."
Dr Napthine said the grandstand development was a vital add-on to the $6.7 million lights project completed last year that allowed Cranbourne to be a major player, along with Moonee Valley, in a night racing series the envy of the other states.
"When we get a success story, like in business, we want to build on that success and that's what they have done here at Cranbourne."
The existing grandstand has been in operation since the mid-1980s.
Cranbourne Turf Club and Recreation Reserve committee of management chairman Geoff Whiffen said the funding announcement was a win not only for the racing industry, but for the community as a whole.
He said a date for the start of construction would be decided after consultation between the three codes, but it was unlikely to be before the end of the year.