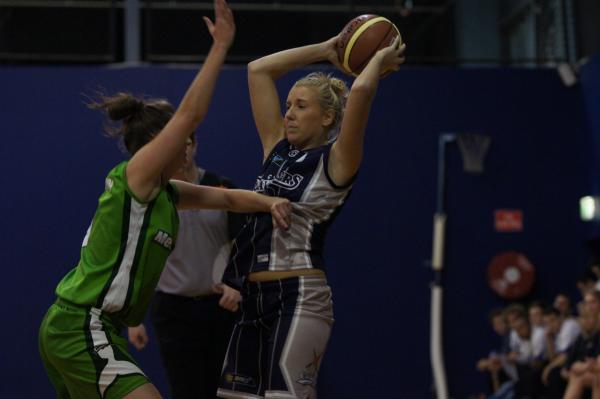 By JARROD POTTER
SUSPENSEFUL was the only word needed to describe the Casey Cavaliers come-from-behind overtime win against the Warrnambool Mermaids 54-51.
Down by nine heading into the final term, the Cavaliers charged ahead with Jess Szalek (19 points, 12 rebounds) and Keira Beswick (four points, seven rebounds), drawing fouls in the key as the Mermaids failed to lock down their defence.
After an agonising last quarter, with a number of free-throw opportunities to win the game squandered by Casey, up stepped Renee Swagemakers (six points, seven rebounds) – making a clutch rebound off a missed free throw before hitting two of her own to level the scores 49-49 with 20 seconds remaining.
The Cavaliers had a shot on the buzzer, but couldn't hit it, taking the match to overtime, where Casey ground out five points to take the memorable win. Casey coach Mark Holman said his charges' reluctance to lose the tightly-fought match overwhelmed the Mermaids down the stretch.
"More than anything – you put everything else aside in terms of free-throw shooting and tech fouls – the fact that they didn't give up," Holman said.
"They refused to lose, and clawed their way back into the match and that's what I'm happy about above everything else."
The win went a long way to erasing the memory of their Saturday night loss to the Southern Peninsula Sharks 50-57. Sammy Johnson (10 points, nine rebounds) was impressive at both ends of the court with Szalek (13 points, 13 rebounds), Swagemarkers (eight points, 10 rebounds) and Beswick (eight points, eight rebounds) smashing it off the glass as well.
"Huge disappointment Saturday night, the girls agree that it was a game that we probably dropped not that Southern Pen particularly won," Holman said.
"They're up on top undefeated, and we were really amped for that game and our free throws and other bits and pieces let us down, but we think we're definitely a championship calibre team and we have the people and mindset to do it."
Casey Cavaliers men fell off the winner's list for the second week in a row with a 70-76 loss to Melton.
A 15-26 final quarter favouring Melton didn't do the Cavaliers any favours, as it dropped away following three strong quarters to begin.
Ash Szalek (12 points, 11 rebounds) copied his sister Jess' double-double efforts, while Stephen Michalski (11 points), Dylan Wayman (14 points, five rebounds) stood tall in the clash. Jono Hawes (10 points, five rebounds) returned from a month on the sidelines and picked up where he left off from only 16 minutes.
Both sides are at home this Sunday afternoon to face Keilor.