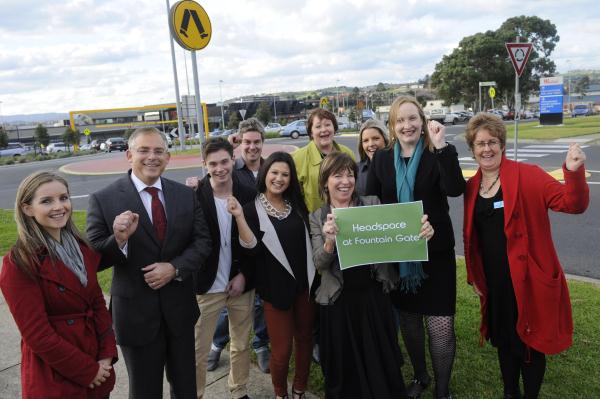 YOUNG people dealing with mental health problems can now find help at a new service in Narre Warren.
The Federal Government announced this week that a Headspace facility will soon be coming to Fountain Gate in Narre Warren.
The popular service provides support in areas ranging from mental health issues, to drug and alcohol problems, physical health, social and vocational support.
Holt MP Anthony Byrne has been campaigning for the service and celebrated the news on Tuesday, alongside La Trobe MP Laura Smyth, CEO of the South Eastern Melbourne Medicare Local Anne Peek, Manager from Dandenong Headspace Liz Rowe, and members of Stream of Light group including Madison Moore, Matthew Kelaart and Sarah Ardiente.
Mr Byrne said that the new service in Fountain Gate would provide young people with a holistic health service where they felt welcome and comfortable.
"We know that one in four young people will experience a mental health issue this year, making it the single biggest issue facing young Australians," Mr Byrne said.
"However, three-quarters of these people aren't receiving the professional help they need because of a lack of access to youth-specific mental health services or because they don't know who to turn to."
Ms Smyth MP said local young people, schools and health professionals have spoken to her and Mr Byrne about the service and she was pleased they were able to make their hopes a reality.
"If we make sure young people have proper support when they need it, we can give them a better future and help them get more involved in the life of our community," Ms Smyth said.
"We know that 92 per cent of young people have reported improvements in their mental health after using a headspace service.
"Headspace can give young people a way of getting back on track and it's important that we have this support locally. We know that."
And as part of the Government's 2.2 billion mental health package, additional funding of almost $200 million is being invested to establish 90 Headspace sites across the country.
In total, 15 new Headspace centres will open across the nation in Queensland, New South Wales, Victoria, South Australia and Western Australia including the new one at Fountain Gate.
For more information about the national Headspace program, see www.headspace.org.au.