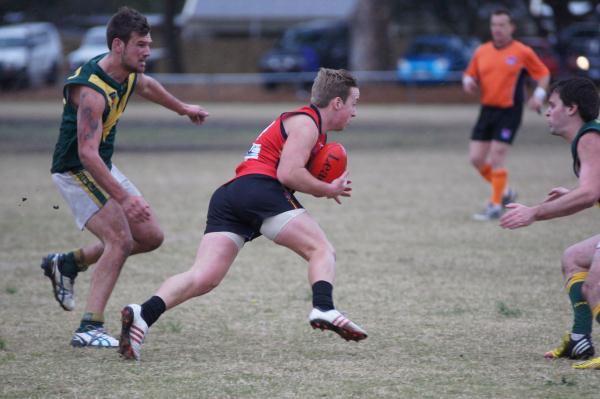 By JARROD POTTER
SOUTHERN FOOTBALL LEAGUE
HALLAM stole the show on a soggy afternoon to beat back Endeavour Hills and force the Falcons one step closer towards claiming the SFL Division 3 wooden spoon.
In the cross-town showdown, battling for bragging rights and the chance to avoid last place, the Hawks flew while the Falcons sank in the mud at Hallam Reserve.
The match was virtually over at quarter-time, following a Hallam 6.8 blitz and proceedings got worse from there for Endeavour Hills as the home side built a 50-point lead by the final siren.
Sharing it around must be part of the Hallam handbook, with 10 Hawks claiming a goal each in the 10.14 (74) to 3.6 (24) victory.
The fleet-footed Hawks Sean Gaitely, Andrew Daly, Matt Neve and Luke Kitchen had an extra step over the Falcons and raised their hands as best afield.
For the Falcons, Ben Graham kicked two goals while Justin Mcleod, Josh Graham and Nathan Reid put in stand-out performances.
Hallam heads to Barry Powell Reserve to face Lyndale while Endeavour Hills hosts premiership contenders Mount Waverley.
Life on top of the table remains cushy for Doveton Eagles, knocking in a 12.12 (84) to 2.12 (24) win over fourth-placed Carrum Patterson Lakes.
The Eagles found the higher gears in the third quarter, kicking 5.6 to a point to take the roar from the Lions' mouth.
Peter Dye and Enayte Samadi kicked three goals each while coach Paul Davis claimed a double.
Travis Graeske, Matt O'Callaghan and Darryl Thomas all relished the wet-weather to claim best afield honours.
Doveton Eagles remain unbeaten 15-0 with 205 per cent, in the SFL and face Ashwood at home to keep the streak going.