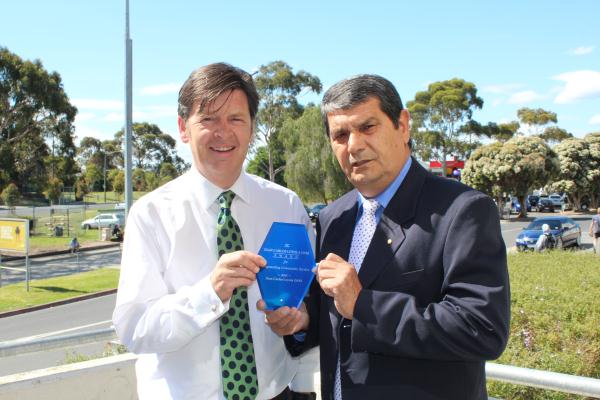 By LACHLAN MOORHEAD
JUAN Carlos Loyola, or 'Carlos' as he is known to everyone in Casey, is something of a household name when it comes to giving back to the community.
A year after having an award named after him, it is now time for another selfless public servant to be awarded with the Juan Carlos Loyola OAM Award for Longstanding Community Service. Nominations are now open for the award which was created last year to recognise longstanding service in Melbourne's South-Eastern suburbs.
The award, presented and sponsored by Narre Warren North MP Luke Donnellan, was named after Carlos following his twenty years of tireless service to the Doveton Special Soccer School.
Mr Donnellan said while the award was named after Carlos for his dedicated work in Casey, all longstanding volunteers involved in a variety of community groups are encouraged to nominate.
"There are many people across Melbourne's South-East who give so much back to their communities, clubs and associations, and that should be celebrated," he said.
"This award was created to help celebrate and thank the community spirit and hard work of long-term volunteers."
The winner of the 2014 Juan Carlos Loyola OAM Award for Longstanding Community Service is chosen by a panel of local residents and active community members, including Endeavour Hills' Patricia Clarke and Carlos himself.
Nominations close on Friday 14 February, while a presentation for the 2014 award winner will take place on Friday 14 March.
For nomination forms and more information, contact Mr Donnellan's office on 9706 0566.