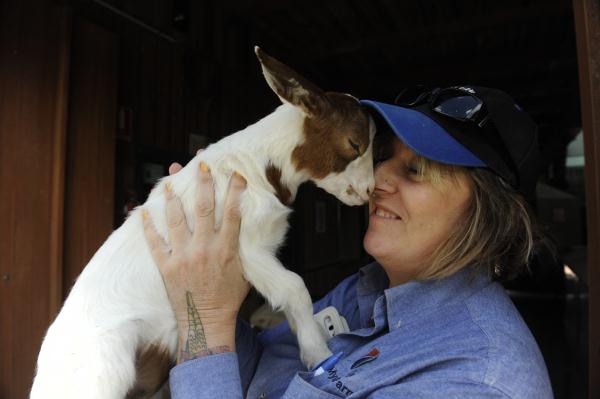 By BRIDGET COOK
MYUNA Farm's newest kid on the block has defied the odds and survived, thanks to the farm's dedicated staff.
Tinkerbelle the goat, who was given that name due to her tiny size and ears resembling fairy wings, was born the runt of a litter of three in early November.
She was so tiny she could not stand and did not have the strength to drink.
The committed staff at Myuna Farm, particularly farm officer Deb Andrews, took Tinkerbelle under their wings to ensure her survival and she is now going strong.
From day one, Ms Andrews took Tinkerbelle home every night and she was bottle-fed every two hours, round the clock, using her mother's milk.
In those early days, she went everywhere with Ms Andrews including out to the market in a bag and visiting friends for dinner in the evenings.
When Tinkerbelle was one week old, she stayed at Myuna Farm with her mother and siblings during the day, but still went home each night with Ms Andrews.
Two weeks later she was strong enough to be reunited with her family and she now lives at Myuna Farm permanently.
City of Casey mayor Geoff Ablett said Tinkerbelle was lucky to be alive.
"Tinkerbelle's ability to overcome health issues and thrive against the odds can be credited to the dedicated and devoted staff at Myuna Farm, who went above and beyond to ensure she had the very best start in life," he said.
City of Casey manager sport and leisure Richard Amon Tinkerbelle was doing really well, but weighing just 3.3kg she was still much smaller than her brother and sister.
In recognition of Tinkerbelle's popularity around the farm, the council called on visitors to name her.
Through the Myuna Farm Facebook Page, more than 150 name suggestions were posted in under 24 hours with Tinkerbelle being chosen as it represented her tiny size but big ears.