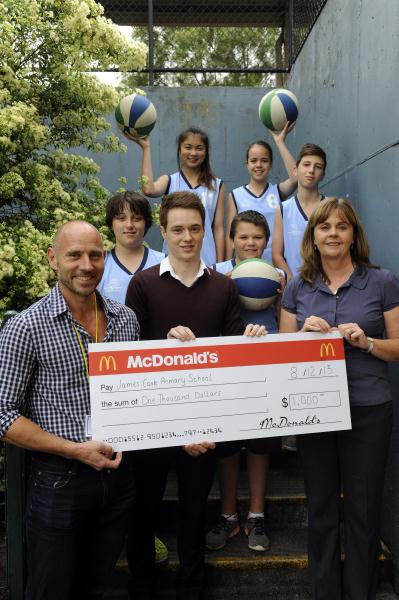 By LACHLAN MOORHEAD
STUDENTS from James Cook Primary School scored a slam dunk this month when they received a $1000 Hoop Time Sport Grant from McDonald's.
The cheque was presented to the school last week at assembly, with James Cook Primary one of five schools to receive the grant.
James Cook assistant principal Lynne McDonald, who completed the 50-word application entry on behalf of the school, said the money would go towards uniforms for the student basketball team.
"In the past our basketball team has had to borrow uniforms from other schools," she said.
"The kids were ecstatic that they can now look like a team. Before they had different coloured tops and different coloured shorts.
"Now they feel like a basketball team."
Ms McDonald said she applied for the McDonald's grant not just to promote sport inside James Cook Primary, but also to encourage students to get involved with sport outside school.
This is the fourth year that McDonald's has offered the Hoop Time Sports Grants and receives plenty of entries every year.