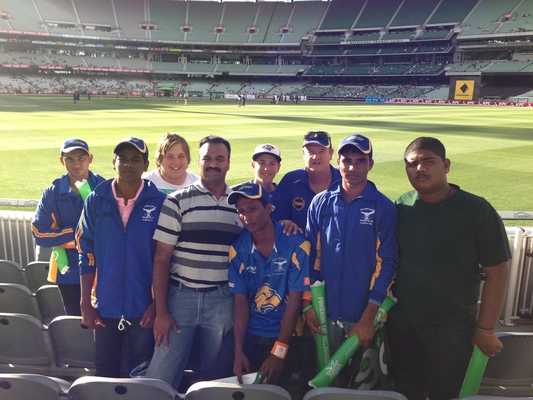 By LACHLAN MOORHEAD
THE Cranbourne Cricket Club is appealing to Immigration Minister Peter Dutton for help in a last-ditch effort to save one of their Sri Lankan-born players from being deported.
Poharjan Rajenthiran, 18, known as Raj, has been moved to Darwin where he awaits deportation after living in Cranbourne for the last two years.
Raj was one of five Sri Lankan Tamil boys the Cranbourne Cricket Club took under its wing with the help of the Life without Borders program, which set up accommodation in Casey for the teenager after his parents sent him to Australia to avoid persecution.
Having now turned 18, Raj's last chance to stay in Australia is an appeal to the Federal Immigration Minister.
Cranbourne Cricket Club committee member Shaun Petrie said he and others were concerned for Raj's safety if he were to be taken back to Sri Lanka.
"Having visited Sri Lanka personally and knowing the ill feelings that many Sri Lankan groups still have toward the already decimated Tamil community, I genuinely fear for Poharjan's safety if he is indeed returned," Mr Petrie wrote in an open letter to Mr Dutton.
Last Friday Mr Petrie met with an advisor for Holt MP Anthony Byrne who said Mr Byrne intended to raise the issue with the Immigration Minister in Canberra this week.
In the meantime the Cranbourne Cricket Club has urged people to write letters of recommendation for Raj to help support their bid to Mr Dutton, while a change.org petition has also been set up.
"All avenues of appeal been exhausted, his government appointed lawyer has obviously taken him through the whole process … he's been denied a visa to stay," Mr Petrie said.
"His only hope is for the Minister for Immigration to intervene. It's a last-ditch chance, and it's probably a 100 to one shot."
Mr Petrie said as well as being a very good cricketer Raj was "a respectful, polite, very honest, hard-working person" and much-loved member of the team after having joined two seasons ago.
"The club was asked if we'd be interested in taking on the four or five Tamil boys because the only connection they had with this country was through cricket," Mr Petrie said.
To write a letter of recommendation for Raj, email Shaun at shaun.petrie@electrolux.com.au.
To see the change.org petition, visit https://www.change.org/p/peter-dutton-help-raj-stay-in-the-country?recruiter=71082109&utm_source=share_petition&utm_medium=copylink.