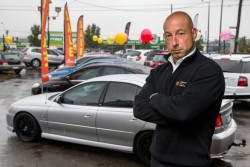 By LACHLAN MOORHEAD
POLICE are investigating a series of car thefts from dealerships in Casey and Dandenong, in which a thief purporting to be a customer ends up driving off in the cars.
Police confirmed they are looking into a number of car thefts from used and new car dealerships in the Berwick, Kingston, Bayside and Frankston areas.
Star News has spoken to the owner of a Dandenong dealership, who had a car stolen from his lot, and who is also aware of similar crimes occurring at a Cranbourne dealership.
While some of the cars have been recovered by police, several others are still missing.
Melbourne Online Motors owner Norman Favaloro was away from his car lot in Dandenong's Lonsdale Street last Wednesday 30 March when a customer came in to inspect a car.
The customer was interested in a second-hand Ford XR6 Turbo and asked the employee what the engine sounded like.
After the salesman started the car and then lifted up the bonnet, the customer walked past him into the driver's seat and sped off.
Mr Favaloro said the car had still not been found.
"Someone has to have balls to come here in broad daylight, jump into someone else's car and take off with it," he said.
"It's not unheard of but you never think you will have that customer that does it.
"It's just frustrating … we're a small, independent business."
Mr Favaloro said he was aware of a similar theft occurring at a Cranbourne dealership, but that car had apparently been recovered.
Anyone with any information is urged to contact Crime Stoppers on 1800 333 000, or submit a confidential crime report at www.crimestoppersvic.com.au.