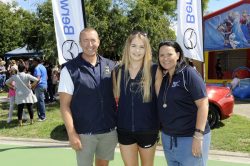 By David Nagel
They're arch-enemies on the court, but when it comes to a good cause, the Berwick Netball Club is more than happy to help out its cross-creek rival Beaconsfield.
The Wickers combined the opening of their 2017 season with a fundraising effort to support Beaconsfield player Ciara Nelson, a 17-year-old who after a recent fall discovered a tumour in her brain stem.
The treatment options for Ciara include a range of extremely costly procedures, including gamma knife surgery in Sydney, Cyberknife treatment in Perth, or even proton therapy in the United States.
Saturday's fundraising effort raised about $3000 which will go directly to Ciara and her family.
"It was a beautiful day, with great community spirit and just a wonderful thing to be a part of," Berwick Netball Club President Mel Broadley said.
"I've only been president for four months but I couldn't be prouder of the endless amount of work the committee put in and how everyone dug deep to support Ciara and her family. I actually had a tear in my when I was addressing the group … it was very moving to be a part of."
Ciara has a GoFundMe page set up to try to raise as much money as possible towards her treatment.