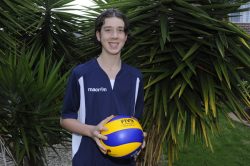 By Nick Creely
Berwick and Haileybury College youngster Nathan Dowsett is a good old-fashioned sports fanatic.
Whether it is kicking goals playing for the South East Juniors interleague team in footy, or playing representative basketball for the Casey Cavaliers, Nathan is a rare and exciting talent – and he's only going to get better.
But the 13-year-old's next challenge is conquering the world of volleyball – a thrilling and physically gruelling sport that perhaps goes under the radar.
After putting in the hard yards, he is now set to represent the Victorian U15 state team in September's Australian Junior Volleyball Championships, to be played in the sunny Gold Coast suburb of Coomera.
"It will be an absolute honour to represent Victoria in the State Volleyball team and it has always been a goal in my sights," he told Star News Group.
"I am extremely excited about going to Coomera in Queensland for the volleyball tournament. It will be a very good experience for me and all the other boys playing at a very high level, representing our state.
"Although it comes with a lot of excitement, it also comes with lots of nerves."
Nathan's training schedule is demanding, but will only increase as he enters a professional set-up led by his Victorian coach in the White Team, Colin Priest.
"A lot of hard work has gone into it for my school team, training 2-3 times a week and playing every Saturday morning," he said.
"My coaches at school and Volleyball Victoria have been fantastic helping me get to this point. They really encourage me and help me improve each week.
"Now that I've been selected, we train for three hours every Sunday."
Nathan has been playing football and basketball since the age of eight, and has used elements of these two sports to guide him into the rigours of volleyball.
"The sport has a lot of upsides which has really drawn me to the game, such as playing as part of a team and learning lots of new skills," he said.
"It's something different for me as well having played many other sports, both basketball for Casey Cavaliers and football for South East Juniors.
"Learning all the time is a real positive for me. All the coaches and the boys I've met along the way have been great."
As a tall youngster, Nathan has a significant advantage, but said the game is beyond the individual and requires dedication and hard work.
"My height can be used to my advantage, like playing up at the net and spiking, but the main key to success in any sport is team work and working together, giving 100 per cent at training and in the games, and having respect for your team-mates and coaches," he said.