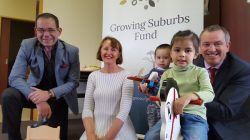 By Cam Lucadou-Wells
Parents' plans are up in the air after Casey Council announced a new "randomised" priority system to access its kindergartens in 2018.
A Berwick mother, who didn't wish to be named, said she'd registered her son soon after his birth to ensure his enrolment at their neighbourhood kindergarten.
Now his placement may be up to "randomised" selection.
The mother said a zone that allowed families to attend their closest kindergarten would be fairer.
"We want to go to a kindergarten where we live. The primary schools are zoned, so why not the kindergartens?"
The new system may force families into long peak-hour drives to more distant kinders, or into more expensive, private child care, she said.
Under the new access system, kindergarten allocation will no longer be on a first-in basis nor decided by the child's geographic proximity.
Preference is given to high priority children, such as those at risk of abuse or neglect, those with special needs, Aboriginal and Torres Strait Islander children, and asylum seeker and refugee children.
Children that are not on the high-priority list may be then in a "randomised allocation" lottery for a spot if their preferred kindergarten is over-subscribed.
According to Casey, the allocation is driven by the family's "listed preferred kindergartens".
When Casey announced the priority system on Facebook, more than 300 commented – mainly in opposition.
One railed: "Every child is important and a priority … I'm a rate payer, supposedly 'we are all equal', but never where my family concerned it seems!!!!
"I put my son's paper work as soon as he was born, I want him at the same centre my other two boys are/were at."
A Berwick mother told Star News she had no problem with high-priority children getting preferred access, but said there was mounting pressure on getting a place at Casey kindergartens.
"There's so many young families with young kids moving into the area.
"There's a lot of pressure on the resources, even though there's a couple of new kindergartens opening up.
"I don't think they can keep up with the demand."
Casey currently has 2922 children enrolled in its kindergarten system this year. It doesn't have an exact figure for place numbers in 2018.
Casey child, youth and family services manager Virginia Lloyd said the council was in a "fortunate position" to provide every registered family a place at a kinder within the municipality.
"However, due to the growing demand, council has never been able to provide every family with their first preference."
Ms Lloyd said children from vulnerable backgrounds had always been prioritised in the enrolment process, as required by the State Government.