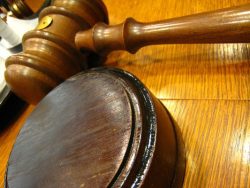 By Cam Lucadou-Wells
A single mother has been jailed for a year after stealing more than $240,000 from her employer's accounts and credit cards.
Bridget Jones, 34, had worked as a national payroll and accounts assistant for just over 12 months at Premium Floors in Dandenong South before her fraud was discovered, the Victorian County Court heard on 9 June.
Up until that time, Jones had used a combination of false accounting, transfers onto her credit card, using two employees' credit cards and making a fraudulent Motorpass card account between November 2015 and December 2016.
She had justified it by helping others, such as buying her mother a car or paying towards a funeral plan for her son's late friend.
According to a psychiatrist, it was more to promote an image of success, to keep up appearances as a cover for low self-esteem.
"I wanted to be the one people came to for help," Jones had told the therapist.
At the time, Jones was on a suspended sentence for similar offending in 2014. It was part of a "litany" of "entrenched behaviour", Judge Elizabeth Gaynor said during sentencing on 9 June.
The judge summed up Jones's "problematic" world-view as: "It's all about you.
"Your outlook is skewed, fractured and wrong.
"You might have seen the world as a tough place to negotiate. It doesn't make you more needing or vulnerable than anyone else."
Jones's past offences – which had not been disclosed to Premium Floors – included as a book-keeper, misusing her company AMEX card.
She'd wrongfully used customer credit card details for personal gain while working in a call centre for Pizza Hut in 2006.
In 2007, Jones had been convicted for altering a cheque from an unfair dismissal case for $400 to $4000.
On another court appearance, she was found guilty of using stolen credit cards.
Jones is also set to contest subsequent offences of the same ilk against another employer, Judge Gaynor said.
Jones's dysfunctional upbringing in Shepparton, sometimes-abusive relationships, abuse of pharmaceutical drugs at the time and financial problems were noted by the court.
Judge Gaynor emphasised the "nightmarish situation" endured by Jones's immediate manager at Premium Floors, whose career and well-being suffered "gravely" as a result of the offending.
"The unfairness must rankle with him all the time," Judge Gaynor said.
"How dare you do that to another human being, Ms Jones?"
Judge Gaynor said there was a high risk of repeat offending unless there was intense psychiatric intervention.
She said the offending warranted a prison stint, though it might make Jones's condition worse.
"How someone thinks it's OK to knock off money to buy a car for your mum while on a suspended sentence for the same thing?
"That shows me how psychologically disturbed your thinking is. You must have known this would be uncovered."
After Jones serves 12 months in jail, she will be subject to a three-year community corrections order.
It includes supervision, judicial monitoring, mental health and drug treatment and up to 300 hours of unpaid work.