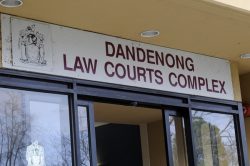 By Cam Lucadou-Wells
A Berwick man has been allegedly discovered unconscious in a car with stolen goods, drugs, weapons and more than $5000 cash just two weeks after being bailed on similar offences.
Scott Mclean Rankine, 25, made an unsuccessful application for further bail at Dandenong Magistrates' Court on 10 July.
He had been originally bailed by Ringwood police on 9 June after being allegedly found with a known female and multiple knives, a Taser, a pouch of methamphetamine and ecstasy, and a marijuana joint in Ferntree Gully, the court was told.
Rankine also allegedly had a set of number plates stolen from Berwick railway station earlier that month.
The accused was next arrested unconscious with the female inside an unregistered purple Ford with false plates about 3.20am on 21 June.
Rankine was found with cannabis, a joint, an orange tablet, OC spray and 31 Xanax tablets.
A police search of the car allegedly discovered methamphetamine, a machete with a 35 centimetre blade, extendable baton, a knife and another sharpened weapon.
There were also bank cards and distinctively packaged $5820 cash and coins allegedly stolen in an aggravated burglary in Glen Waverley three days earlier.
A further 30-centimetre machete and Uzi-brand handcuffs were then seized during a police raid of his home.
Defence lawyer Manny Nicolosi said Rankine claimed to have won the seized cash during an $11,000 win on pokies, and intended to fight the Ringwood charges.
Rankine would show cause for bail at the family home with strict conditions such as level-3 intensive CISP supervision, night curfew, non-association with the female companion and regular reporting to police, Mr Nicolosi submitted.
Magistrate Julie O'Donnell said she was concerned that Rankine kept offending while skipping appointments on his third community corrections order and just being released from jail.
"This person has just served a term of imprisonment, and it made no difference to his offending.
"Every step has been taken with Mr Rankine. He's done CISP before, and short sentences have failed to deter him."
Mr Nicolosi said Rankine was non-compliant with his latest community corrections order due to the death of a close family friend. His grief led him to rekindling his meth habit, Mr Nicolosi said.
Ms O'Donnell took into account Rankine's 10-page criminal history, saying the "ultimate outcomes aren't favourable" for the accused in this case.
Rankine's bail was refused. He was remanded to appear at Ringwood Magistrates' Court on 9 August.