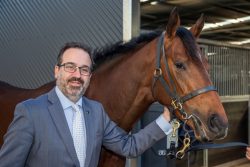 By Cam Lucadou-Wells
Will the 'forgotten' victims of crime be the winners from the state's earnest law-and-order debate?
Goaded for the state's so-called "soft" justice system, Attorney General Martin Pakula recently announced a stronger sentencing regime and an extended review into the Victims of Crime Assistance Tribunal (VOCAT).
The Victorian Law Reform Commission review will consider how to ensure access to VOCAT was fair, timely and minimised additional trauma.
Among the review's issues were whether awards were appropriate. Currently they're capped at $60,000 for medical and counselling expenses.
Mr Pakula said "significant action" had been taken to strengthen the state's sentencing regime.
"We've introduced legislation to create sentencing standards for the most serious crimes, and we will create a Sentencing Guidelines Council to engage with the community and provide guidance to the courts."
In the recent budget, the government boosted frontline staff and support services for victims of crime, witnesses and vulnerable children, and gave extra funding to the Victims of Crime Commissioner.
Shadow Attorney General John Pesutto said more was needed to help victims, who were forgotten due to the "constant focus on the rights of criminals".
His Liberal-National Coalition has proposed "profound" changes such as victims being able to get compensation from offenders' superannuation.
Victims would also have the right to be consulted by prosecutors prior to altering charges.
Mr Persutto said victims needed more scope to express their grief and anguish in victim impact statements which are "often pared back to the point of leaving victims gutted".
"We will put victims and community safety first with the strongest bail laws in the country, mandatory sentencing for violent offenders and a commitment to a strong and well-resourced police force."
The Coalition is also considering whether to increase VOCAT compensation orders, Mr Pesutto said.
In his first report, recently appointed Community Safety Trustee Ron Iddles cited some victims enduring delays of more than two years at VOCAT.
"If the approach is 'victims first', then the current process warrants review in the interest of quick resolution for victims."
The government said Mr Iddles' findings reinforced the need for its VOCAT review.