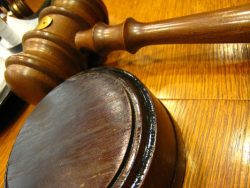 By Cam Lucadou-Wells
A Narre Warren North man has been jailed for being the "architect" of the notorious South East Skids hoon meets as well as drug trafficking and firearm offences.
During sentencing, Caspar De Waij, 23, was chastised by County Court judge Lisa Hannan for his disregard for the law in organising "high-risk driving on public streets" that endangered crowds of spectators.
She read out a damning text message from De Waij on 23 August that declared "the South (East Skids) is coming with a bang" ahead of a meet captured on CCTV.
"Buckle up and hold on to your mum's t**s.
"It's time to just get out and smash sets. And let's lose cars to taskforce 'I spend more money chasing hoons than sex offenders'."
In the lead-up, a procession of Skids hoons had been marched through Dandenong Magistrates' Court. Some were jailed, some had their cars crushed.
But De Waij wrote: "Let's bring back the old days."
He was arrested two days later.
On 11 July, Judge Hannan said it was a very serious, calculated and pre-meditated example of reckless conduct endangering serious injury.
He also pleaded guilty to being a prohibited person possessing a 0.41-calibre shotgun found in Narre Warren and a loaded 0.44 lever-action rifle found under a bed in Carnegie.
The rifle, found with 19 rounds of ammunition, had been stolen from a Cranbourne address.
De Waij dropped it at the house with about $5000 worth of ecstasy and ketamine, just before driving himself to The Alfred hospital to treat a shotgun wound.
Police discovered matching ecstasy tablets and matching rifle ammo as well as $4750 of stolen jewellery in De Waij's BMW.
According to police intercepts, he obtained the BMW in return for a drug debt.
This series of offences began just five weeks after De Waij had been released from custody in April 2016.
He had a "substantial" criminal history, including speeding at 240km/h on a freeway. His latest offending breached a community corrections order.
In 2013, he'd addressed a road trauma awareness course – an attitude that proved either "insincere" or "short-lived", Judge Hannan said.
His prospects of rehabilitation were "guarded at best".
"In my view you are an arrogant young man who has not learnt from prior experience in the justice system."
Judge Hannan noted the Dutch-born De Waij had a childhood marred by trauma without "real guidance", and a diagnosed borderline personality disorder.
He had claimed he had been shot, stabbed, kidnapped, abused multiple substances and had a head injury.
"I hope you have the determination and courage to make the changes necessary to step out of the revolving door of drugs and custody," Judge Hannan said.
She said she must balance De Waij's possible rehabilitation with the need to protect the community from his "entrenched" offending.
De Waij was jailed for 32 months, with a minimum of 20. He had already served 321 days in pre-sentence remand.