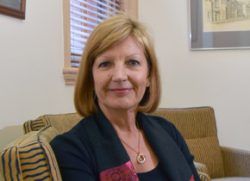 By Victoria Stone-Meadows
The only university in the City of Casey has responded to findings by the Australian Human Rights Commission that 39 per cent of surveyed FedUni students reported sexual harassment in 2016.
The Change the course: National report on sexual assault and sexual harassment at Australian universities report released on Tuesday 1 August showed that more than half of university students across the country experienced some kind of sexual assault in the 2016 calendar year.
Federation University will be the sole university in Casey when they complete the changeover of the current Monash University Berwick campus at the end of 2017.
The results of the nationwide survey showed that 14 per cent of students at Federation University experienced sexual assault on campus in 2016, compared to 28 per cent at Monash University.
The Vice-Chancellor of Federation University, Professor Helen Bartlett, said Federation University would be taking the report's 10 recommendations very seriously to address the issue of sexual assault on campus.
"We have a responsibility to raise awareness and educate students about what sexual harassment is, that it's not right, and that one case is one case too many," she said.
"I think Fed Uni's a safe place, but we want to make it safer and that means in regards to sexual harassment we have to be really clear that we have zero tolerance for it."
As well as committing to implement all 10 of the report's recommendations, Federation University will extend its training programs across its entire institution to prevent sexual and violence-related acts.
The results of the survey show that a majority of students at Federation University had at least some knowledge of how to seek support or assistance from the university in regards to sexual harassment.
However, 33 per cent of students were shown to have none or only very little knowledge of how to seek help or support from Federation University.
Professor Bartlett said this knowledge gap in how to seek support would be addressed as an integral part of ending sexual assault at universities.
"We've been looking into our procedures about this," she said.
"We want to ensure we have robust procedures that ensure first responders are trained, that our student leaders are fully briefed about how to support their peers and that every student that comes to this university has the opportunity to go through training, awareness raising and not just once but during the life of the student.
"These things need to be reinforced, it's just not a token gesture, and these things need to be embedded so it becomes part and parcel of students' education."
The 10 recommendations from the Human Rights Commission report that Federation University will implement are:
– Federation University will adopt an evidence-based respectful relationships program for university students;
– Federation University will participate in specialist training developed by the Australian Psychological Society to extend the skills of university counsellors to support victims and survivors of sexual assault and sexual harassment;
– Federation University will connect students with a 24/7 national interim support line offering specialist support for students, operated by Rape and Domestic Violence Services Australia, to supplement university services in the months immediately following the release of the report;
– Federation University will engage in a broader availability of first responder training for university staff;
– Federation University will engage in new training for university staff and leaders about prevention and responses to sexual harassment and sexual assault;
– Federation University will work with Universities Colleges Australia – a peak body for residential colleges – to provide access to first responder training for residential colleges and halls of residence, and to take their own action to support students in a compassionate and timely way;
– Federation University will adopt best practice guidelines developed by the Human Rights Commission to support universities to respond to reports of sexual assault and sexual harassment;
– Federation University will adopt new principles on postgraduate student-staff interaction;
– Federation University will commit to continue the Respect. Now. Always. awareness campaign; and
– Federation University will undertake a follow-up student survey to assess progress and inform ongoing action.
If you or someone you know needs support, help is available from the following organisations:
* National university support line: 1800 572 224 (From 31 July to 30 November 2017)
* 1800 RESPECT: 1800 737 732
* Lifeline: 131114
* Beyond Blue: 1300 224 636
You can also contact the Victorian Sexual Assault Crisis Line on 1800 806 292 or by emailing ahcasa@thewomens.org.au.