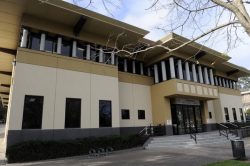 By Cam Lucadou-Wells
A Narre Warren father of three is appealing his jail term for running a red light and crashing during two hair-raising police pursuits within a month.
David Francis Lamb, 33, crashed a car into a home's fence after speeding from police in a "dangerous and reckless manner" at up to 125 km/h in a 60 km/h zone about 4.30am in Wonthaggi, Dandenong Magistrates' Court was told.
He was arrested after climbing out of a passenger window and hiding in trees next to the crashed, unregistered purple Commodore.
Lamb later told police he accelerated from the police's lights and sirens because he didn't have a licence.
"I just wasn't thinking straight," he told police.
A month earlier, the still unlicensed driver failed to pull over for police and ran a red light in his Commodore on Bass Highway, Grantville about 6.20pm.
Another vehicle was forced to brake and take evasive action to avoid Lamb's car at the Pier Road intersection.
Police then deactivated their lights and sirens and pulled their divisional van to a halt.
It was "stupidity, to be honest," he later told police.
"I don't have a reason."
Lamb, who pleaded guilty to all charges, had an "unblemished" life up until he turned 30, his lawyer told the court on 7 August.
The accused's life had unravelled due to significant alcohol and drug abuse as well as mental health issues.
He had breached community corrections orders and served six months in jail.
At the time of the offences, Lamb was using up to two grams of methamphetamine daily.
Since then, Lamb had turned his life around. He had taken positive rehabilitative steps with ongoing counselling, medical treatment and clean sets of urine screens, the lawyer said.
He had gained employment and was in a supportive relationship, the court heard.
Magistrate Jack Vandersteen noted there was no suggestion of Lamb being affected by drugs or alcohol at the time of the pursuits.
He said there was a need for courts to denounce such dangerous driving that placed the community at "enormous risk".
"You were very fortunate in the last incident you had an accident … that there wasn't a tree there, there wasn't a pedestrian or someone in their front garden.
"The impact on victims of car accidents is life-long, whether it's serious injury or death."
Lamb was jailed for three months, put on an 18-month supervised community corrections order and disqualified from driving for 18 months.
Lamb has been released on bail as he awaits his County Court appeal.