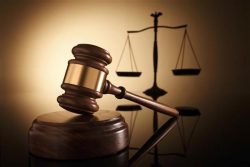 By Cam Lucadou-Wells
A drug addict who terrified occupants as he broke into two Cranbourne homes has been jailed for up to two years.
Daryl Kelly, 41, of Cranbourne, frightened a young mother with two sleeping children as he stared at her through a kitchen window, tried to open a rear security door and then smashed his way into a backyard bungalow through a window on 15 August.
Kelly ransacked kitchen and bedroom cupboards inside the bungalow, then fled over the backyard fence when police arrived, Dandenong Magistrates' Court heard on 11 September.
Less than 30 minutes later, he entered another home by lifting off roof tiles.
The occupants were woken by the sound of Kelly over the roof cavity. The residents called out to Kelly that they were calling police and heard Kelly strike at the roof or ceiling.
When police arrived, Kelly's leg was hanging through the ceiling plaster in the kitchen. He escaped via the home garage's roller door and was chased down by police on foot.
During his resisted arrest, Kelly was sprayed with capsicum foam.
In Narre Warren police cells, he hurled a filled bottle of water at a police officer, saying "You're supposed to have ambos here ages ago."
Kelly was also charged over a 120 km/h police pursuit on South Gippsland Highway on 14 February. He was unlicensed, recorded a 0.033 blood-alcohol reading and was breaching his bail night curfew at the time.
From his car, police seized a centre punch modified into a hammer as well as a Bear Grylls survival knife, the court was told.
He was also charged with unlicensed driving and ice and cannabis possession in March and May.
A former interstate truckie, Kelly had been unemployed for three years since injuring his shoulder, his lawyer told the court.
Kelly's 27 days in remand custody were the "first time he's been clean since the age of 11", the lawyer said.
His "significant" drug issues included cannabis, GHB and ice, "using as much as he get.
"For his most recent and serious offending, he couldn't remember anything that happened.
"He thinks he hadn't slept for 19 days prior to the offending."
The lawyer conceded Kelly's adherence to an 18-month supervised community corrections order at the time was "extremely poor".
Magistrate Jack Vandersteen noted Kelly's "unusual" and escalating offending reflected his extensive drug use.
"He would have struck terror in all of the complainants. He is so intent on getting that property to get that next lot of drugs.
"He doesn't remember it, but they certainly do.
"What do you do when you've got someone so intent on entering your home?"
Kelly was jailed for two years with a 10-month non-parole period, fined $500 and disqualified from driving for 12 months.