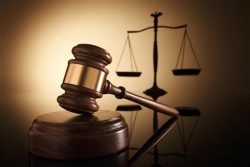 By Cam Lucadou-Wells
A man with a string of suspended driving offences and found with up to $30,000 worth of meth in his car has been placed on a community corrections order.
Matthew Christopher Edwards was found with 40 grams of 'ice' after his car was intercepted speeding at 101 km/h in an 80 km/h zone on South Gippsland Highway, Dandenong South, on 10 July, a court heard.
Edwards told police at the time that he had a NSW driver's licence but couldn't produce it. He then gave a false name and address to police.
During a search, his suspended Victorian driver's licence was found in his wallet.
His mobile phone contained several messages relating to drug trafficking, prosecutor Leading Senior Constable Kate Kirk said.
Edwards was caught driving suspended another four times in Mulgrave, Melbourne, Hallam and Narre Warren between May and July, the court was told.
On 2 September, he was found with two prohibited butterfly knives when arrested with a known criminal associate in a car in Narre Warren in the early hours of the morning.
He told police after an ensuing strip search: "I don't trust you. I don't respect you. I won't tell you anything."
Edwards, who sat with his wife of 12 years in Dandenong Magistrates' Court on 10 October, had gone in a downward spiral since losing his job in March, the court heard.
He had also been under strain due to his father's death and his own ulcerated leg.
Defence lawyer Sarah Pratt said it had been a short period of offending, without prior criminal history apart from driving offences.
Edwards had since landed work. Imprisonment should be the last resort, Ms Pratt said.
Magistrate Jack Vandersteen said Edwards' remarks to police showed he "didn't know when to pull his head in".
"It's clear you're leading two different lives, two different personalities.
"You've got stability, but then look at your behaviour driving cars when you shouldn't be driving."
He estimated the drug's street value to be between $20,000-30,000.
He said Edwards was on the "cusp" of imprisonment, but opted for a longer than usual CCO.
Edwards, who had spent three days in remand custody, was put on a two-year supervised CCO with 350 hours of unpaid work as well as drug and mental health treatment and judicial monitoring.
He was disqualified from driving for 16 months.