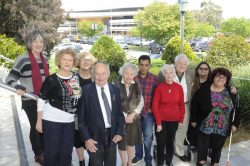 By Cam Lucadou-Wells
Six of Casey's elders reveal the extraordinariness of their lives in a one-off performance, Tale Tellers, at Bunjil Place.
The 'tale tellers' made their homes in Casey from far-flung corners of the world – New Zealand, England, Fiji, Tasmania – and a little closer nearby.
One was a Fijian Indian urged by his parents to give back to the world, who worked with Maori youth in New Zealand.
He is now a film-maker and radio presenter driven to reach a wider audience.
Another was one of seven kids who travelled down from Deniliquin, photographed lying on a mattress in a back of a ute gazing at stars above Swanston Street in the 1970s.
She is now working with children as an Aboriginal co-operative leader.
Actress and director Evelyn Krape, with the help of oral historian Dr Vivienne Nicholson, scripted the stories.
She will join the six on stage with an Afghani performing group, leading them like a pied piper as they tell their stories.
Many of their life stories were forged by profound moments of tragedy, Ms Krape says.
"What's driving these tale tellers has been a determination and resilience, and to contribute to the community."
Ms Krape has staged a number of tale teller performances.
Audiences are inevitably moved. You will hear "sighs of recognition" from the crowd during the show, Ms Krape says.
"Everyone finds something that makes them think 'Oh my God, that's my story'."
And for the elders – that generation that often feels invisible, is wracked with ill-health and isolated – this is a chance to be embraced.
"We're celebrating their lives," Ms Krape says.
"It's extraordinary when the grandchildren and great-grandchildren are in the audience and they see their gran or their pa.
"They have seen them as these ordinary, frail people and it's marvellous. It's a great feeling."
Tale Tellers is at Bunjil Place Studio, Magid Drive, Narre Warren on 3 November, 1-2.30pm. Tickets: $7, including afternoon tea.