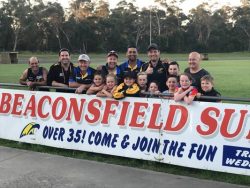 By Russell Bennett
For footballers in their mid-30s facing the end of their careers at senior level and looking for a way of staying involved in the game, the Beaconsfield Superules side may have just the solution.
The team, based out of Perc Allison Oval in Beaconsfield, will be coached by former Kooweerup and Hampton Park senior coach Matt Shorey next year, and it's on the hunt for players aged 35 and over.
Shorey opened up, saying there are so many players currently facing their footy mortality at clubland who haven't quite accepted it. He knows that feeling all too well.
"I still didn't really accept it – that I was done," he said.
"It's when you actually accept it that you look at your next chapter. Do I take up golf? Do I take up something else? You need that outlet – you just need that if you've played footy all your life."
And then there's the potential for players who've gone through their careers without winning a premiership to rectify that at Beaconsfield.
"I was lucky enough to play in one," Shorey said.
"At that point, then we probably weren't favourites to win it but at least you got to play in one – that's the main thing.
"This is a great opportunity for it to happen – to really get Beacy successful, to recruit some older players who're in that mid-range from 35 to 45. There are a few guys I've played against who still have a bit of talent and some pace there who could definitely come in now if they still have a bit of fitness, themselves."
Shorey acknowledged it was a commitment for players – and indirectly, their families – to get involved with Superules, but not in the same way as it was in the previous chapters of their careers at clubland.
"The wives and kids have put up with a lot over the past 15 to 20 years of your footy career, and then all of a sudden you say you want to play again," he said.
"But you do enjoy it out there – it's kind of hard to explain.
"I never even thought I'd play Superules, but the reason why I took the coaching job on is because I think there's something there for blokes who're finishing up their footy and want to have a bit of fun, and take it half seriously too. It's fun, but when you're competing and you've always been a competitor, it's hard not to take it seriously when you get to game day."
Shorey said the doors at Beaconsfield were open to players of all clubs and competitions who're looking to give Superules a crack.
"There are guys sitting at home who'd think they're finished, but they're not really," he said.
"There's something still there that says 'I just want to play'.
"Some of these blokes who were one club players have only known that certain amount of people through footy. It's a great opportunity – knowing that you may play with some (former opposition) players you didn't know that well as blokes.
"Once you actually get into the same side, you see a different side of them."
Anyone looking to get involved with the Beaconsfield Superules side can call coach Matt Shorey on 0438 573 969.
Training starts on Thursday, 16 November from 6pm at Perc Allison Oval.