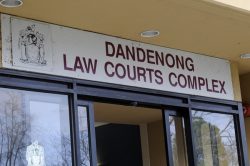 By Cam Lucadou-Wells
A Narre Warren South man, who claimed he couldn't fly back to a court hearing, has been declared an "annoying individual" and had a warrant issued for his arrest.
The absent Jesse O'Connell, through his lawyer, rejected a magistrate's sentence indication of a fine and conviction for allegedly stalking his neighbour.
The lawyer told Dandenong Magistrates' Court on 13 November that O'Connell would instead contest the charges.
Magistrate Jack Vandersteen asked the lawyer why "the court's time had been wasted" by a sentence indication hearing.
"Well, I'll issue a warrant for his arrest. He should be here.
"Why did you go through this charade?"
Mr Vandersteen said after looking at the prosecution summaries, he couldn't see a defence for O'Connell.
The lawyer responded that the accused thought the charges were so "minor" they would have been dropped.
"Maybe, that's why he has prior convictions for stalking," Mr Vandersteen retorted.
"He seems to lack that insight."
The court heard two alleged stalking episodes, including O'Connell allegedly parking near the neighbour's car in a Bunnings car park and filming the victim walking to their car.
This was in alleged breach of an intervention order.
Earlier the lawyer said that O'Connell knew of the court date, but "couldn't get a flight back" from work in northern NSW.
O'Connell opposed a conviction because it may lead to police invoking his good-behaviour bond, the lawyer said.
Mr Vandersteen said a conviction was warranted given O'Connell had committed two prior stalking offences.
"Your client is just an annoying individual, and he's got a history of dealing badly with people."
O'Connell was listed to appear at Dandenong Magistrates' Court on 23 November.