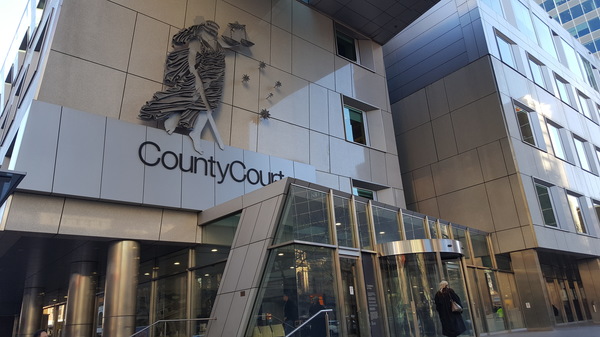 By Cam Lucadou-Wells
Three ex-Dandenong men armed with a shotgun and machetes during a terrifying early-morning robbery of a Narre Warren servo have been chided by a judge for abusing Australia's hospitality.
Regan Augustine, 19, and Padiet Deng, 19, brandished "very nasty-looking" machetes – one that was 36 centimetres long with a serrated edge – during the hold-up about 3.50am on 23 February.
Poulios Awo, 22, held a double-barrelled, 12-gauge shotgun.
It was not loaded, but that was not apparent to the servo's petrified staff, Judge Frances Hogan of the Victorian County Court noted.
CCTV footage of the masked robbers was a "picture of chilling menace," Judge Hogan said.
One of the attendants fled out the door, screaming for help at a nearby roundabout. He flagged down a motorist, asking them to stay with him because he was so afraid.
The other staff-member hid behind the counter in vain. He pleaded: "Please brother, don't hurt me. I have a family".
The robbers stole more than $500 cash from the till and more than $6000 worth of cigarettes.
Half an hour later, they attempted a similar armed robbery of three staff at a Glen Waverley newsagency.
All three offenders, equally culpable for the crimes, grew up in conflict, violence and fear in their African homelands, Judge Hogan noted.
"It is an irony that having been granted asylum as a refugee in this country you should then commit acts of brazen violence that disturb the peaceful dignity of others, causing them to fear for their safety.
"Each one of you should be deeply, deeply ashamed for the serious abuse of hospitality … shown to you in Australia which has provided refuge for you and your families.
"Your appalling conduct has caused ongoing adverse psychological consequences for five citizens who were simply going about their business earning a living."
Judge Hogan also noted the prevalence of armed robberies on "soft targets" who work late at night and early in the morning.
"They are crimes of a deeply unsettling and anti-social manner and breed feelings of fear and insecurity in the community."
Awo – the oldest offender but with the lesser criminal history – was jailed for three years, with an 18-month non-parole period.
His prison time includes 278 days already served in pre-sentence detention.
Awo's propensity for violence and his escalation in offending were of grave concern.
He was more capable of reforming than the two co-accused – if he kept away from drugs and anti-social gangs, Judge Hogan said.
"You Mr Awo are the only one who can make this decision.
"If you don't make it, your life is likely to be a wasted and wretched one."
Augustine and Deng were sentenced to three years in a youth justice centre.
Their term will not include the 278 days they spent in adult prison prior to sentencing.
Judge Hogan had reservations about Deng and Augustine's rehabilitation prospects, and anguished over whether they should be jailed in adult prison.
She said she couldn't ignore their young age and the chance they could reform in a youth justice centre, rather than being influenced by older prisoners in jail.