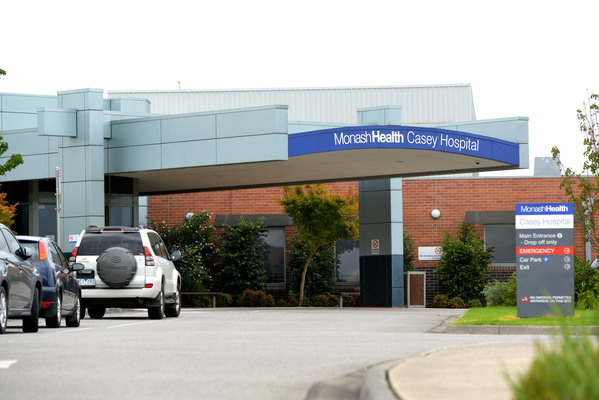 By Cam Lucadou-Wells
Monash Health is set to remove flammable cladding from Casey Hospital but states the hospital is "safe to occupy".
The cladding will be replaced from the main building facade, the sub-acute ward built in 2014 and an extension to the main building built in 2010.
According to the State Government, Casey and seven other hospitals with flammable cladding will be "brought into compliance" within 36 months.
Monash Health became aware of the issue at Casey Hospital in August after a review by an independent building surveyor, its spokesman said.
"An independent building surveyor and fire engineers have assessed the buildings and certified that they are safe to occupy.
"Works were immediately undertaken to reduce risk, including additional sprinkler installation."
The hospital had already been protected by mandatory fire-safety features such as sprinklers and a fire alarm system.
"We will work with the Victorian Cladding Taskforce with any further audit process and implement any recommendations identified to ensure compliance is achieved," the spokesman said.
There have also been 1400 buildings identified as "likely" to have the cladding by a Victorian Cladding Taskforce.
The cladding, described as aluminium composite panels with a polyethylene core or expanded polystyrene, came under the spotlight after a fire rapidly tore up the Lacrosse apartment building in Docklands in 2014.
Cladding was also blamed for the horrific Grenfell Tower fire in London in June, in which 79 people were killed.
Casey Council is set to audit six of its buildings for combustible cladding.
Casey's city presentation manager David Richardson said the council was not aware of any of its facilities being fitted with non-compliant cladding.
The materials used at the recently opened Bunjil Place complied with Australian standards and Building Code of Australia requirements, Mr Richardson said.
"Council will audit our six public buildings that are two storeys and above for the non-compliant cladding in accordance with the Victorian Building Authority Requirements.
"The majority of council's 360 buildings are single-storey and not impacted by the proposed audit."
The State Government has directed the Victorian Building Authority to expand its inspections from government buildings to residential dwellings.
"We're taking action to overhaul the building industry and prevent the use of combustible cladding," Planning Minister Richard Wynne said.
"We're giving the VBA the tools it needs to complete an unprecedented audit and we'll crack down on those who flout the rules."
Opposition health spokeswoman Mary Wooldridge said Premier Daniel Andrews had been "dragging his feet" on the issue, having known the Royal Women's Hospital had flammable cladding for more than two years.