By Nick Creely
Winning builds confidence, and for Casey-South Melbourne that confidence is beginning to once again re-emerge just before the red ball stuff gets underway this season.
In Saturday's 111-run win over Kingston Hawthorn at Walter Galt Reserve, the Swans found that aggressive edge, the component of their game that unsettled teams last year.
Sent in by Hawks skipper James Miller, opening batsmen Michael Wallace (48) and Devin Pollock (43) got the visitors off to a steady start, with Pollock in particular playing some textbook cover drives that raced along to the boundary.
The pair guarded the middle order perfectly, rotating the strike with constant quick singles and putting away the balls that strayed off a good length.
When Pollock spoon-feed a catch to Tyrone Kane at mid-off, the Swans were 1/79, and in a position to make a match-winning total.
Wallace was then deceived by a clever piece of spin bowling by Yasiru Herath (1/31) to claim a vital wicket, with the score on 2/107.
But returning from injury, skipper Lachlan Sperling (51 off 51 balls) and aggressive middle order batsman Jordan Wyatt (21) crunched the boundaries to slam on a quick 51-run partnership, with Sperling in particular launching three massive sixes off the slower bowlers.
Wyatt and Sperling were eventually dismissed – both bowled by some clever deliveries by Javed Khan (2/40) and Miller (3/45) – but it was Ryan Eaton (35) who then slammed on the advantage to guide the Swans to a strong 9/240 off 50 overs.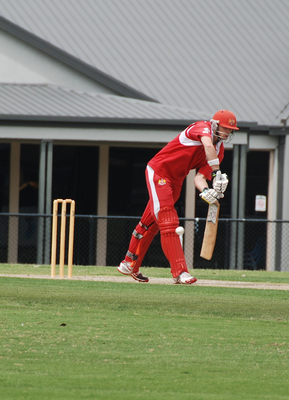 Nathan Lambden (3/28) and Jackson Fry (2/29) used the new ball like class bowlers should, dismissing dangerous pair Ram Prathap Kumar (8) and Shorye Chopra (6) to leave the home side behind the eight ball at 2/23.
The Swans' 16-year-old spinner Jonah Serong then provided an even more exciting glimpse into his rare talent, taking an incredible 5/29 off 10 overs as the Hawks faltered for 129.
Serong now has 14 wickets in his first seven first XI matches to be second in the club's wicket takers so far this season, all at the average of just 12.64.
Sperling was full of praise for his side, and in particular Serong and Lambden, who helped the Swans climb off the bottom of the ladder.
"We had 11 contributors throughout the day, so that was probably the most pleasing thing from the victory," he said.
"Lambden, Fry, Serong and Rosey (Brendan Rose) all bowled really well – Rosey didn't quite get the rewards, but he bowled to a plan and built pressure from the other end.
"Jonah was just fantastic – we know we can just throw him the ball and he'll put it in the right areas – the improvement every week in his match awareness is enormous.
"He just doesn't get fazed by anything, and he's a fantastic kid who is eager to learn.
"And (Lambden's) stats kind of just speak for themselves, he's bowling very quickly and moving the ball."
Sperling said the start of the batting innings was crucial in the end, with Pollock and Wallace giving the Swans a tailor made start.
"They (Wallace and Pollock) got us off to a pretty good start, it wasn't a flying start, but we kept wickets in the shed which meant we could take more risks from probably around the 35 over mark," he said.
"It definitely gave us a decent platform to have a real crack in the last 15 overs."
The skipper also finally returned from injury, and was pleased just to be able to contribute to the strong win.
"It was just good to be back out there and playing, and it was nice to contribute personally, but getting the victory was the main thing," he said.
"It was one of those weeks because of the weather that I didn't have much of a hit, so I went in with a really fresh mind, and it sort of paid off, and it helped with Wal and Dev getting off to a good start."
The Swans host Melbourne in the first two dayer of the season at Casey Fields on Saturday.