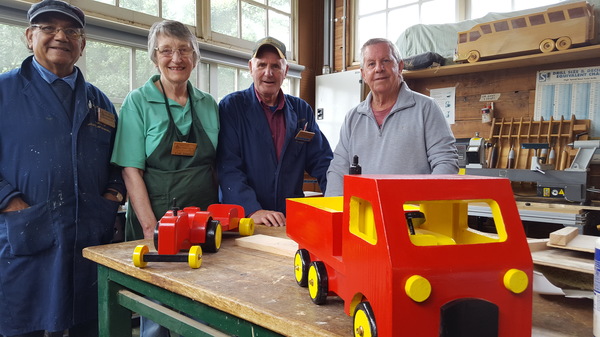 By Cam Lucadou-Wells
In a true labour of love, Berwick District Woodworkers Club has donated 840 hand-made wooden toys for children this Christmas.
The retirees – most of them not trained as woodworkers – created the quality rocking horses, trucks, cradles and aeroplanes from their Old Cheese Factory workshops over 12 months.
Like Santa's little helpers, they don't see the children who receive these complimentary gifts. But they know what a difference they have made, member Brian Crowe says.
The toys could well be the only present the children receive this Christmas.
"The stories you hear about the kids brings a tear to your eye," Mr Crowe says.
Vice-president Elsie Hoare adds: "If we can make toys that make their life better, that's enough."
The toys are distributed by six South-East charities Turning Point, Cranbourne CISS, Casey North CISS, Windermere, Southern Migrant and Refugee Centre, and Cardinia Combined Churches Caring.
It's been an annual tradition by the Berwick woodworkers for at least 13 years, members say.
President Len Preece says there's more to the 100-member club than being a toy factory.
The members also work on individual projects – such as wooden weather stations, pens as well as a baton trophy presented to the police charity Legacy.
They run woodworking sessions for residents at a Narre Warren North nursing home, and at Officer Specialist School.
Their crafts have also given life to timber from the old trees felled during the recent Clyde Road widening works.
Most of all, the club gives meaning to its members' lives. Many spend six mornings a week in the workshops and tearoom.
They come from all walks of life – former teachers, sheet-metal workers, travel agents.
Some of them are pushing walking frames, others recovering from operations.
"I believe the club helps keep us going," Ms Hoare says.
New members are welcome.