By Nick Creely
Suited perfectly to the Twenty20 format, Berwick's vast array of experienced champions and talented youngsters meant they were always going to be a tough side to defeat in the tournament.
And in Wednesday evening's Dandenong District Twenty20 grand final at Arch Brown against one of the Bears' greatest rivals in Springvale South, they claimed their first piece of silverware for the season in what will be a season defining week for many reasons.
Skipper Matt Chasemore won the toss and elected to bat, with Nathan Pilon and Jordan Cleland opening up proceedings.
There were some danger signs early in the piece that a colossal total was on the cards, with the pair swiftly crunching 40 runs unbeaten off the first six overs.
As expected, the Bloods were always going to have their moment and find a way to peg the Bears back, and eventually quick Tim Ford (2/32) found the answer, removing Cleland (29) caught behind with the score 1/49.
The momentum well and truly had shifted, with leggie Malinga Bandara (2/38) spinning a web through the dangerous Pilon for 28, before Dandenong champion and Bloods skipper Brett Forsyth (2/28) trapped Ryan Williamson in front not long after without troubling the scorers.
At 3/64, Chasemore (45 off 31 balls) and marquee Blade Baxter (37 off 25) consolidated the ship briefly, riding out some tight bowling from the visitors, before launching an attack.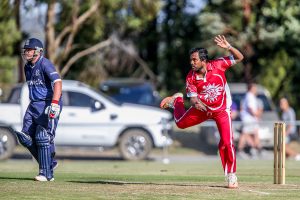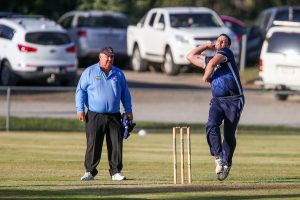 The pair did a fine job of rotating the strike, and with four overs left in the innings, set a decent platform at 3/115.
Baxter, in particular; starting looking for the ropes regularly and was able to crunch three maximums over the rope before he eventually holed out to Bandara, and a late flurry by Jarrod Armitage (11 off 9) and Chasemore; who played a fine hand for his side; lifted the Bears to a competitive 7/156 off their 20 overs.
But with the likes of Forsyth, Craig Slocombe, Nathan King and reigining Wookey winner Steven Spoljaric, it seemed like the Bears could have been 10 to 20 runs short.
Gun quicks James Wilcock (3/16) and Armitage (1/29) struck gold early, with both King (15) and Forsyth (1) swiftly removed without damage done.
The looming threat of Spoljaric kept the Bloods afloat, and cameos by Slocombe (18) and Andrew Staude (20) had the visitors well and truly on track.
But despite Spoljaric's (56) best efforts once again, the Bears; through the likes of Chasemore (2/22), James Wilcock (3/16) and Baxter (2/20), rallied to restrict the Bloods to 8/135.
It gives the Bears their second DDCA Twenty20 title, in what is a positive start to the week.
"It was just an expectation that we were going to win; I told them at the start (of the tournament) that if I'm going to lead (the team), I'll pick teams to win," Chasemore said after the match.
"The boys bought into that; we made a tough decision for Darren de Souza not to play, but at the end of the day, it was the team that I thought would win it."
Chasemore was full of praise of his squad, which blended some of the emerging players at the club with some of the most seasoned local players in the state.
"My theory on experience is not exactly how many games you play, but how fast you're prepared to learn, and I spoke to younger blokes like Cory Bevan, Jordy (McDonnell), Daz (de Souza) and Jordan Cleland and explained their role, everyone needs a role, and they did it well," he said.
"With myself and Nathan Pilon in the team, I guess you're always going to post a total that's competitive, but along the way we had blokes chip in and make runs or take wickets.
"Our marquee player (Baxter) is also one of the better players in Victoria, to be honest, so to have someone like him in the mix was great."
While Chasemore believes Springvale South have one of the best local sides he has seen, a strong belief of his systems and never taking the foot off the pedal in pursuit of victory was a catalyst for the win.
"Nerves and pressure is not something that crosses my mind, I don't see why I've got anything to worry about; 156 was definitely enough for us to make because we can bowl teams out for nothing," he said.
"If you do all the work, and tick all the boxes, you've got nothing to worry about.
"In Twenty20 cricket, you still need to take the 10 wickets; if you solely go in trying to save runs, you can't do that; at times last night, I brought fielders in and had three out even in the non powerplay overs.
"It worked, and some people made little comments, but I'm not there to save the game, I'm there to win it.
"We attacked, and starving Spolly of the strike in the second half of the innings was just perfect; It comes down to good fields, the leader having knowledge, and star bowlers executing, which they did."
Final scores: Berwick 7/156 (M.Chasemore 45*, B.Baxter 37, J.Cleland 29, N.Pilon 28, B.Forsyth 2/28, T.Ford 2/32, M.Bandara 2/38) def Springvale South 8/135 (S.Spoljaric 56, J.Wilcock 3/16, B.Baxter 2/20, M.Chasemore 2/22
Berwick's Twenty20 premiership side (with statistics):
Matthew Chasemore (capt), 8 matches, 186 runs at 37.2, HS 60, 4 wickets at 16, economy 8
Nathan Pilon (keeper), 8 matches, 213 runs at 42.6, HS 107, 5 catches, 1 stumping
Jarrod Goodes, 7 matches, 28 runs at 14, HS 13, 8 wickets at 17.4, economy 5.6
Blade Baxter, 5 matches, 93 runs at 31, HS 48, 10 wickets at 11.9, economy 6.3
Jarrod Armitage, 6 matches, 67 runs at 13.4, HS 23, 6 wickets at 23, economy 6.6
James Wilcock, 5 matches, 15 runs at 5, HS 8, 7 wickets at 15.4, economy 6
Jordan McDonnell, 3 matches, 21 runs at 7, HS 17
Cory Bevan, 8 matches, 32 runs at 16, HS 17, 8 wickets at 10.5, economy 6.5
Jordan Cleland, 7 matches, 62 runs at 15.5, HS 29
Ryan Williamson, 6 matches, 81 runs at 20.3, HS 50, 1 wicket at 12, economy 12
Will Carr, 4 matches, no runs, 6 wickets at 14, economy 6.5