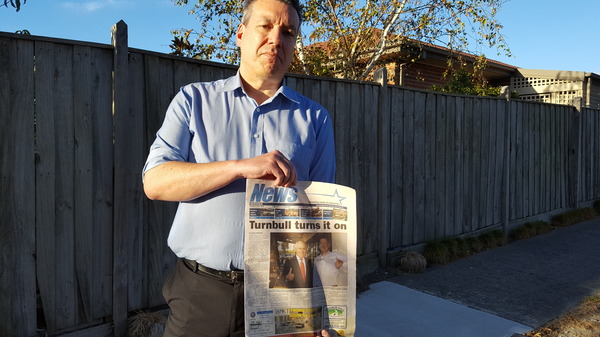 By Cam Lucadou-Wells
A man has turned to Prime Minister Malcolm Turnbull to fix a disappointing NBN rollout that has "stiffed" Narre Warren South residents in a form of "node-lotto".
Three years ago, Steve Barnes happily posed with then-Communications Minister Mr Turnbull who announced a local NBN rollout in the area, long known as Casey's biggest internet black-spot.
Mr Barnes was hopeful that after 12 years of campaigning, he and his neighbours' homes would finally get decent internet.
But on 12 March, Mr Barnes – an IT worker and cabler – wrote to Mr Turnbull in frustration.
"We ended up being stiffed by NBN Co," Mr Barnes wrote to Mr Turnbull.
"Looking around the surrounding neighborhood you will find that the Nodes have been placed next to their respective pillar to get the best possible outcome for households that are connected.
"That is not so with our area and we could be forgiven for thinking that this was an intentional act due to our campaign."
Mr Barnes called on Mr Turnbull to intervene – after failed approaches to NBN Co and Communications Minister Mitch Fifield.
One of the suggested solutions was for Mr Barnes to pay $600 for a quote on a possible technology change. To get fibre straight to his premises would cost Mr Barnes about $20,000.
"If they put the node where it was meant to be, we wouldn't be having this conversation."
Put simply, internet speeds are slower because the node cabinet is too far from residents' homes.
Over 400 metres away, the speed dramatically "degrades" across the copper-wire connections.
Unlike in other parts of Casey, NBN Co did not install a node cabinet next to the telecommunications pillar on Birchwood Street that serves Mr Barnes's and 74 other homes.
Instead a cabinet was built more than 500 metres away in Parkwood Avenue, somewhere in between the housing estate's two pillars.
It has resulted in sluggish download speeds of around 25 Mega bits per second in Mr Barnes' home – the NBN Co's minimum threshold and well below the national 70Mbps average.
Had a node cabinet been built next to the pillar, residents would receive speeds closer to 100 Mbps, he said.
Of about 1000 residents in the estate, Mr Barnes estimates only 20 were getting "full speed".
Mr Barnes has vigorously campaigned for better internet since 2003.
Until the NBN rollout last year, the estate didn't even have ADSL broadband because it was about five kilometres from the telephone exchange.
"My concern is five years from now is that the speed won't be good enough anymore.
"To be without internet for 14 years and then be stuck with a dinosaur – it's almost like they did it deliberately."
An NBN spokesman said the fibre-to-the-node cabinet locations were chosen because they "most appropriately fitted our design and operational requirements".
He said the fibre-to-the-node technology enabled the NBN rollout to be delivered quicker and more cost effectively than fibre-to-the-premises.
"Around 70 percent of fibre-to-the-node end-user premises are able to access at least 50Mbps and by the end of the co-existence period all FTTN end-user premises will be able to access at least 25Mbps."
La Trobe Liberal MP Jason Wood said he was pushing for Mr Fifield to meet with Mr Barnes and concerned residents to fix the issue.
Mr Wood said he had great respect for Mr Barnes and his "quite unbelievable" internet knowledge.
Infrastructure changes such as installing a node cabinet or fibre-to-the-kerb would take some time, he said.
"In the electorate there's very few NBN issues that haven't been resolved.
"I haven't given up on this matter at all."
Mr Turnbull's press office did not respond.