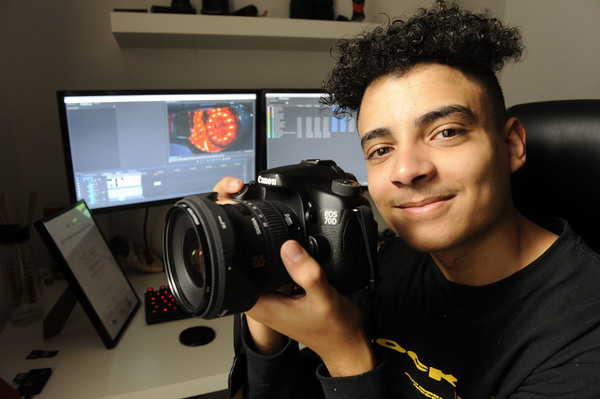 By Cam Lucadou-Wells
Hampton Park videographer Hicham Wahid has already got quite the highlights reel.
The former Narre Warren South P-12 College student was recently awarded the top individual award at Victorian Certificate of Applied Learning (VCAL) Achievement Awards 2017.
It effectively meant he was judged the state's top VCAL student.
When he strode into the limelight and delivered his speech at the Deakin Edge ceremony, it suddenly felt real for Mr Wahid.
"It scared me a bit having to do public speaking in front of a big audience.
"I thought it would be just a simple award. It was a big deal.
Before his two years of VCAL, Mr Wahid was unsure of his work direction.
He explored teaching, sports, real estate and media without the dreaded pressure of VCE.
And when he found his path, he grabbed it with both hands.
A work experience placement with a videographer led to a two-day-a-week internship at NOVA 100 radio station in 2017.
This year, he has kicked on as a "freelance" video editor and digital content producer at the station – with youth on his side.
"As a millennial, I had a different, fresher eye for things than the (older) workers.
"It makes a huge difference on social media."
The job drew him into a studio with artists such as Rita Ora and Rudimental, working on clips for the Nova Red Room.
"They were fun to film. Humble, down to earth … a really cool vibe."
Mr Wahid's former school Narre Warren South P-12 College further confirmed its state-leading program, once again taking out the Foundation Level Team Award 2017.
The award recognised the VCAL students' fundraising efforts. The Year 10s turned scrap wood into chopping boards, cooked up strawberry jam and raised $2000 to help a student in need.
It was the 12th consecutive year that the College has won a VCAL Achievement Award. Mr Wahid is the fourth student from the college to take out top individual honours.
Principal Rob Duncan said the VCAL's relative freedom gave options such as work placements. About 40 per cent of its students opt for VCAL ahead of the VCE.
"Like Hicham, he is following his passions.
"Not everyone will go to university and not everyone who goes to university gets employed.
"It's important we are not seen as just an academic school but one that meets the needs of its kids."
Just as importantly, VCAL helps address the nation's trade skills shortage, Mr Duncan says.
"For Australia to function in the future, we need a lot of emphasis on trades."
To see some of Mr Wahid's work, go to his website at hichamwihad.com