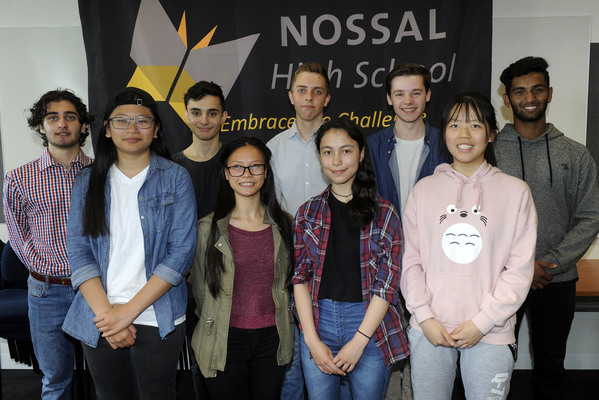 By Jessica Anstice
Year 12 students celebrated their success as Victorian Certificate of Education (VCE) results were released on Friday morning.
Students received their Australian Tertiary Admission Rank (ATAR) scores, the main criterion for entry into most undergraduate-entry university programs in Australia.
Some 206 Nossal High School students attained their VCE with one student, Qiao Wen Tee, receiving the perfect ATAR score of 99.9.
Twenty-six percent (53 students) received a study score of 40 or higher and 612 individual study scores were over 36.
ATAR scores averaged high, with 108 students receiving scores in the 90's and 58 students receiving scores in the 80's.
"We are exceptionally proud of the class of 2018 who have achieved excellent results," Nossal High School principal Roger Page said.
"Eight students achieved perfect study scores of 50 – and three of them were in Year 11.
"I am pleased to see high levels of performance and thank the students and their families for allowing us the privilege of sharing in their educational journey."
Three Haileybury students have achieved the highest possible ATAR of 99.95, placing them in the top 36 students out of 60,000.
Haileybury students Lucy-Hair Cao of Narre Warren, Kevindu De Silva of Clyde North, Nikita Goyal of Narre Warren South, Stephanie Joyce of Lysterfield South, Emily Lai of Narre Warren South and Geetika Malhotra of Berwick all received ATAR's of 99 plus.
A total of 25 maximum study scores of 50 were achieved in 11 subjects.
Biology (three), computing (one), economics (one), English (nine), history revolutions (one), legal studies (two), further mathematics (three), music investigation (two), physics (one), psychology (one) and sociology (one).
7.2 percent of Haileybury students were placed in the top one percent of students in Australia with an ATAR of 99 and above and 28 percent were placed in the top five percent in Australia with an ATAR of 95 and above.
"The 2018 VCE results further cement Haileybury's reputation as one of the outstanding academic schools in the Asia-Pacific region," Haileybury College principal Derek Scott said.
"My congratulations go to all students, their families and the teaching staff. This is a wonderful collective effort."
VCE students at Narre Warren South P-12 College achieved an average all study score of 32.8 which is the highest in their college history.
Seven students attained an ATAR of over 90. Student Jennifer Sam was named VCE Student of the Year.