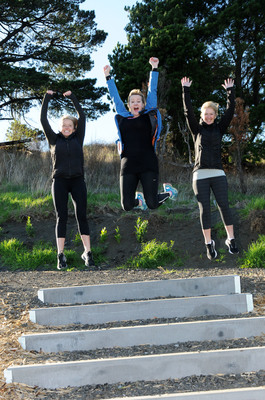 By Brendan Rees
A disused Narre Warren tip is in the final stages of being transformed into a $1 million '1001 Steps' tourist attraction.
The Bayview Park site includes views across Casey and out to Port Phillip and Western Port bay.
Unlike the Thousand Steps in the Dandenongs, the walk near Kurll Park nature reserve is hoped to cater for different fitness levels and abilities.
Casey councillor Rosalie Crestani, who has spear-headed the project at the old Bayview quarry since 2016, said an official opening would be held in June.
She said while the track was open to walkers, car access to Quarry Road was limited due to final stages of completion.
"This is a testament how something special can be created out of nothing and everyone benefits," she said.
"Casey always does one better, or we strive to so the design team produced a beauty.
"The sweeping views of two bays will make this a place of destination; perhaps even encourage tourism.
"Already sporting groups and individual athletes have mentioned training regimes, and local scout groups are earmarking it for a badge achievement."
She added: "My dream became a reality and I have so many to thank. Cr Gilic, as all my councillor colleagues, has been an amazing support to the project."
Cr Crestani said further vegetation was needed, with a possible cafe and amenities in store.
"It's a beautiful start and is a little easier to complete than our counterpart, where the steps undulate up and down," she said.
"This place will be a blessing to all who come; to find health and a place of reflection and peace."