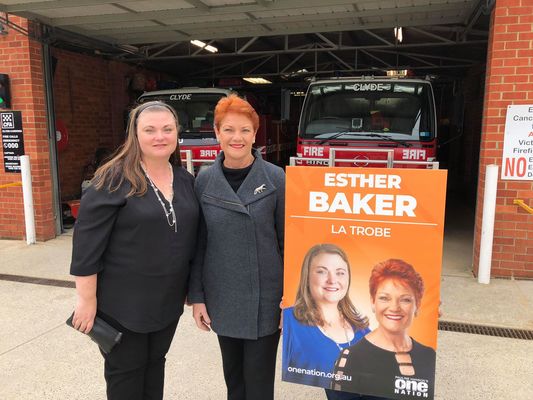 By Mitchell Clarke and Breanna Taylor
Senator Pauline Hanson has hit the campaign trail alongside La Trobe candidate for One Nation Esther Baker to meet with locals at Akoonah Park in Berwick and CFA volunteers in Clyde.
The party is reaching out to rural and regional areas, trying to meet as many people as possible before the upcoming election.
Ms Hansen claims that 30 per cent of Australians don't want to vote for one of the main political parties.
"I think the country has been chaos for many years now under the leadership by the major parties," Ms Hanson said.
"People are looking at One Nation because they trust me, I'm passionate about this country and I believe in a fair go."
Ms Baker is running in her first election. She's the party's first La Trobe candidate in 20 years.
"I think the people of Cardinia should vote for us because the general feeling of the entire region is that they've had enough, they want change," Ms Baker said.
"In La Trobe we have an incredible wealth of culture, but we need to make sure we're in a strong, strengthened position where we can ensure our infrastructure is at a place where we can move forward to look at getting more people in to grow our economy."
While Ms Hansen has never stood in a state election in Victoria, she is "committed to delivering for Victorians".
With the help of local candidates for One Nation, the party pledges to tackle prominent issues affecting residents in La Trobe.