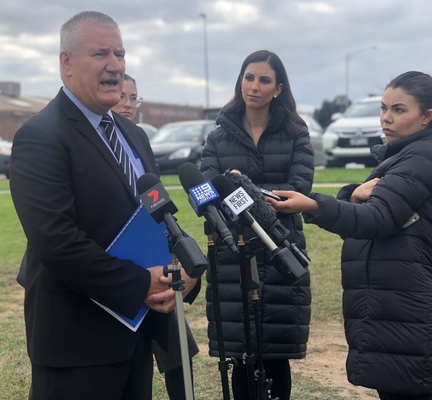 By Brendan Rees
Police are on the hunt for thugs involved in a 30-person brawl in which two girls were allegedly stabbed near Fountain Gate Shopping Centre on Tuesday 14 May.
It is understood the fight broke out between two parties mostly between girls in their mid- to-late-teens, who gathered at a Fountain Drive reserve about 9.30pm.
A 17-year-old girl was treated by paramedics at the scene for non-life threatening injuries and taken to hospital.
The 16-year-old girl was treated for stab wounds to her back and arm and was subsequently taken to a children's hospital for further treatment.
A 17-year-old girl was treated for lacerations to her hand before being discharged, while a 20-year-old girl sustained injuries to her hand but declined further medical treatment at the scene.
An Ambulance Victoria spokesperson said a teenage girl was treated for an injury to her lower body and was taken to The Alfred hospital in a stable condition.
"One person self-presented to hospital with serious injuries, believed to be from a stab wound sustained during the affray," a Victoria Police spokesperson said.
No charges have been laid but "quite a few persons" of interest as well as suspects have been identified, Detective Senior Sergeant of the Casey Crime Investigation Unit Trevor Smith said.
He said the fight was believed to have been "arranged" and involved mostly females of African appearance.
"A fight did occur and a number of girls were injured," he said.
"I wouldn't say it was gang related, not by any stretch."
He added police regularly monitored "these arranged fights" but this incident "appears to slip through the cracks and it's been undetected."
"It's unusual to have an arranged fight by females," Det Sen Sgt Smith said.
He said "edged type weapons" were believed to have been involved in the incident but none were recovered at the scene.
"By the time police got here, a lot of the parties had fled."
"Four girls, who are injured, whilst they've received injuries, they're actual offenders who have received injuries as a result of this affray."
Asked whether any persons of interest were known to police, he said: "I can't answer that question; I haven't been briefed on that."
"Some have been cooperating, some haven't."
"We're doing a lot of work, and a lot of work around this area to prevent this sort of behaviour occurring."
Police urged anyone with information to contact Crime Stoppers on 1800 333 000 or submit a confidential report at www.crimestoppersvic.com.au.