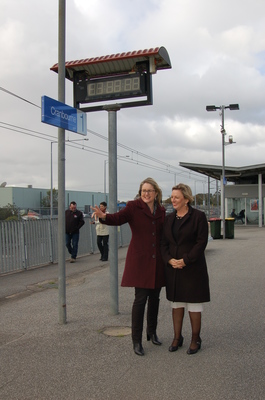 By Danielle Kutchel
Relief is on the way for frustrated south eastern train commuters, with the state budget allocating funding to the long-awaited duplication of the Cranbourne line.
In its 2019-20 budget, handed down on Monday 27 May, the government allocated $750 million to the project which will see the number of trains running during the peak doubled and trains every 10 minutes from every station between Cranbourne and the city.
The duplicated section will run for eight kilometres between Dandenong and Cranbourne. Planning and procurement is set to begin this year, with construction to start in 2021. The project is expected to be completed in 2023.
Meanwhile, both Cranbourne and Lynbrook stations are set to receive more carparks: 400 spaces at Cranbourne, and 150 spaces at Lynbrook.
The budget also reiterated the government's pledge to remove more level crossings, including Camms Road, Cranbourne; Cardinia Road, Pakenham; Evans Road, Lyndhurst; Greens Road, Dandenong South; McGregor Road, Main Street and Racecourse Road, Pakenham; and Webster Street, Dandenong, with funding allocated for these projects. The budget also includes funding for planning for upgrades on a number of painful south eastern arterials, including he duplication of Hall Road from McCormicks Road, the removal of two roundabouts on the
Western Port Highway at the intersections with Ballarto Road and Cranbourne-Frankston Road, and the widening of Narre Warren North Road from Fox Road to Belgrave-Hallam Road. Funding has been provided for new warning signals at the South Gippsland Highway and Lynbrook Boulevard intersection in Lynbrook.
Narre Warren South MP Gary Maas said the budget contained good news for a number of schools and clubs in the community, including Hampton Park Secondary College which will receive upgrades to classrooms and facilities; Berwick Chase Primary School, which has received funding for a new community sports oval and pavilion; and Robert Booth Reserve, which has been allocated $3 million for its redevelopment. A new scout hall in Narre Warren South has also been funded, to the tune of $650,000.
Schools in the area will share in $1.8 billion in state funding, including Cranbourne West 7-12 and Special School, Casey Fields (Five Ways) Primary School, Botanic Ridge Primary School, Cranbourne South Primary School, Cranbourne West Primary School, St Peter's College and Cranbourne Secondary College.
However, the Opposition has raised concerns about funding priorities.
In a statement, David Southwick, Opposition police spokesman, said the government had failed to fund its election commitment to build new police stations in Narre Warren and Clyde North.
A government spokesperson hit back.
"To support the record uplift in police resourcing in Victoria, $68 million has been set aside for two new, 24 hour, state-of-the-art police stations in Clyde North and Narre Warren," the spokesperson said.
Narre Warren North MP Luke Donnellan said the money was being held in contingency as the purchase of land for the stations and the construction costs had not yet been finalised.
He said while no final decisions had yet been made regarding the location of the stations, the projects would be completed during this term.