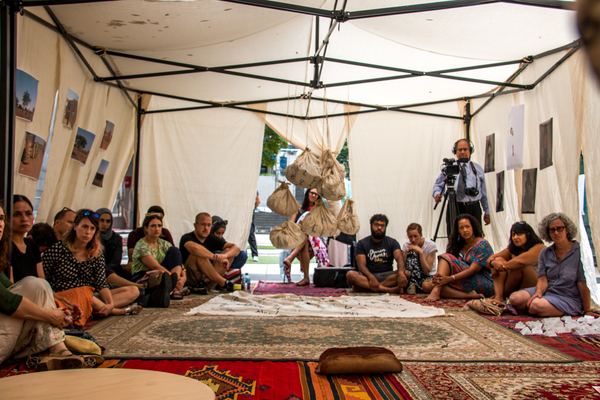 By Danielle Kutchel
Imagine you've been told you need to leave your home and everything you know behind to start a new life in another country on the other side of the world. You've got just a few minutes to pack your most treasured possessions. But what would you take, and what would you be forced to leave behind?
A new live art exhibition at Bunjil Place seeks to answer that question by letting visitors into the hearts and minds of people who have been displaced.
The exhibition is named Bukjeh, the Arabic word for the bundles of belongings that refugees carry with them.
It will feature stories of migration, told by those who have been displaced – inviting visitors into their suitcases, pockets and sacks to see what was taken and what was left behind.
Through spoken word, music, songs, visual arts and language, concept and lead artist of Bukjeh, Aseel Tayah, hopes the exhibition will help forge meaningful connections between people from all walks of life.
She says the exhibition was born of curiosity.
"I'm Palestinian; I was born under occupation and I've seen lots of photos of my people before I was even born holding their bukjehs and having to move, so I always wondered what they had in this bukjeh."
After settling in Narre Warren when she first arrived in Melbourne, Ms Tayah says she was drawn to hold Bukjeh in the area she knew and where there was a developing migrant and refugee community.
It was also important to her to give these communities a place to share their stories and their art.
"You normally see the same kind of people, the same communities and the same groups on stage. With Bukjeh, we challenge the system that doesn't include us and insert ourselves where there hasn't been a place for us," she explains.
"We want people to feel the show is for them … responding to their experience, their pain, and their stories."
To localise the event, Ms Tayah and the Bukjeh team worked with students from Hallam Senior College and Hampton Park Secondary School too, to get young people's experiences too.
People from a variety of backgrounds also contributed, included an Egyptian, a Malaysian, a Chilean and an Indigenous artist from Broome.
Ms Tayah describes it as a "vulnerable" exhibition of memories and thoughts.
"We have a lot of energy. One of the songs I have added was inspired by my journey home. While I was home I listened to this song all the time … I feel so attached to this song. It feels like home, that's what I want to make people feel inside Bukjeh.
"Every time I sing it I can't help crying because it takes me to where I stayed and was feeling so warm. It's the same with all the artists; it's so emotional, so intense, and so beautiful, the feelings they are bringing into this space. It's so magical."
Bukjeh is on at Bunjil Place studio as part of the City of Casey's Winter Arts Festival.
Performances will take place Friday 14 June at 10.30am & 6.30pm, and Saturday 15 June at 12.00 pm & 3.00pm. All performances will end with a Q & A session.
The Bukjeh exhibition runs from Friday 14 to Saturday 15 June, 10.00am – 5.00pm.