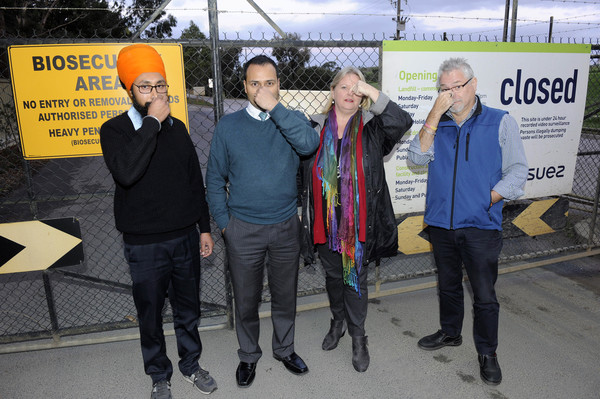 By Brendan Rees
The putrid smell of the Hampton Park tip has again put noses out of joint with residents.
The Environment Protection Authority Victoria (EPA) has been called back in to investigate the Hallam Road landfill site as it responds to neighbours' complaints of bad stench.
"EPA is also planning detailed site investigations over the coming days," EPA southern metro manager Marleen Mathias said.
"As the matter is now subject of an investigation EPA is limited with what information it can share with the public to ensure due process and procedural fairness.
"EPA sets and enforces strict licence conditions and expects them to be adhered with to ensure public amenity," Ms Mathias said.
It comes after the operator of the landfill site, Suez Recycling and Recovery, was fined nearly $8000 by the EPA in September last year for the escape of odour outside its landfill boundaries.
At their 2 July meeting, Casey councillors voted calling for an urgent meeting with the EPA and Suez to discuss remedial action and ways to mitigate the odour.
Casey Mayor Amanda Stapledon told councillors residents were "really up in arms" as they were "experiencing great discomfort with odour."
"This is way beyond what they would expect to be reasonable," she said.
Cr Stapledon said she didn't want to discredit Suez as they were "doing a great job" but added: "We need to look after our residents at the same time."
Suez Victoria infrastructure manager Andrew Carson said workers had recently placed engineered plastic and clay lining "to encapsulate the waste as well as capture the gas that it is generated" in accordance to their licenced conditions from the City of Casey and the EPA.
"This process is ongoing and during these works, we will continue to keep the community informed and encouraged direct feedback to Suez and the EPA," Mr Carson said.
"We are always working to improve our operations and plan our improvement works with the community in mind."
Councillors also voted to meet with the neighbouring farm owner to discuss issues related to water and "massive amounts of rubbish" inundating their cattle farm.
"It's experiencing water run-off into their property, not always water they feel is all together healthy," Cr Stapledon said.
The farm owner's mother Winsome Anderson said litter got caught in the barb wire of the boundary fence which was "absolutely shredding into little hand size pieces" and blowing onto their farm.
She said their cattle were at a "constant risk" of ingesting the stray plastic.
"It needs to have a solid sound proof wall along there for the protection of the neighbours," she added.
"We cop it all believe me … the EPA don't live there."