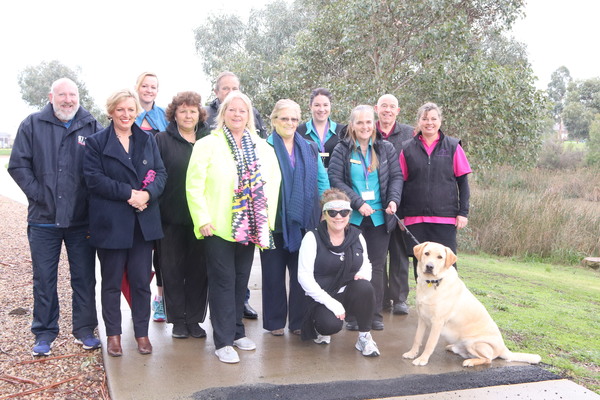 By Danielle Kutchel
We all have a bucket list, and for City of Casey mayor Amanda Stapledon there is one thing in particular that she wants to tick off: providing homes for adults with disabilities.
"To raise funds for adults with a disability who are in the care of their ageing parents or who might be living in motel rooms is the one thing I'd like to tick off my bucket list," she says.
During September Cr Stapledon will be taking steps towards realising that goal with the Mayor's Walk for Disability.
From Saturday 14 September to Saturday 21 September, she will step out to walk 10 kilometres per day, visiting schools, churches, community centres, sporting facilities and parks across the City of Casey along the way and raising funds for the Wolfdene Foundation.
The Wolfdene Foundation builds houses for adults with a disability who are in the care of their ageing parents. The Foundation has a unique partnership with Blairlogie, an organisation that provides holistic support and services to people with a disability.
It's a cause that is close to the mayor's heart.
"It's important to me because I have a son with a disability; I've actually come to understand how other people struggle – carers and people with disabilities," she says.
"Every child, whether they have a disability or not, should have a rite of passage to leave home and live their best life, and what's important to me is to make sure they get that and their carers at the other end have some comfort knowing that when they're no longer there, their child has a home to call their own and one that they're happy in."
Leading up to the walk, Cr Stapledon will be holding walk and talk events each Tuesday at 9:30am, meeting at different parks and open spaces around Casey and giving residents the opportunity to meet and chat with her and other councillors in an informal situation.
"One aspect is getting fit for the walk, but also it's really involving the community," she explains.
"We can help with issues and we can talk about community in general. This is where we get some of our best ideas as councillors, when we talk with residents, and this is just a very relaxing, wonderful way to do it."
As well as raising funds, Cr Stapledon will use her walk to raise awareness of the issues faced by carers and people with disabilities in Casey.
To donate or to find out how to walk with the mayor, go to casey.vic.gov.au/mayors-walk-disability.