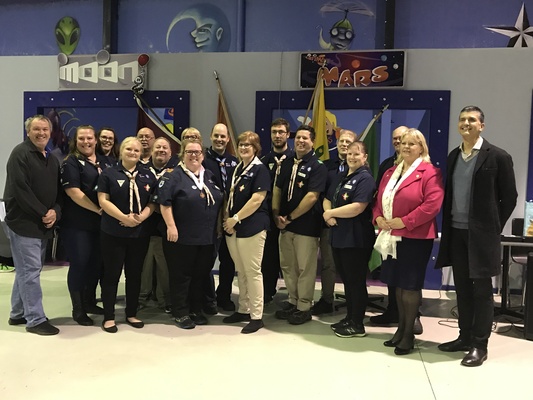 By Brendan Rees
Narre Warren South Scout Group held its annual presentation evening on Friday 9 August.
Narre Warren South MP Gary Maas accompanied proud scout leaders, committee members, families and friends in Hallam to celebrate the achievements of the scouts over the last twelve months.
"The Narre Warren South Scouts are a formidable force in our local community, providing many young people with the opportunity to have fun, develop friendships and learn teamwork skills," he said.
There was also excitement as the architectural plans for the new scout hall in Narre Warren South were unveiled.
A recent funding announcement of $650,000 from the State Government and further Local Government support will mean that the Scout Group will have a permanent building to operate from for the first time in its history.
"I'm proud that the Narre Warren South Scouts will shortly have their own new building to operate from, allowing their fine work to continue," Mr Maas said.
All members of this fantastic organisation take part in a diverse range of activities that help develop resilience and leadership skills while also contributing to the local community.
In the last 12 months alone, the Narre Warren South Scouts have participated in numerous camping trips, night hikes, Anzac Day dawn services and fundraising events.
Some local scouts travelled to South Australia for the Australian Jamboree and America for the World Jamboree, where they gathered with national and international scout groups to engage in a mixture of activities.
Mr Maas also thanked Group Leader Stacey Herring and Bob Taylor – immediate past chief commissioner of Scouts Victoria for their contributions to this wonderful event.
Narre Warren South Scouts is made up of more than 100 members. The group is comprised of the Joeys, Cubs, Scouts, Rovers and Venturers.