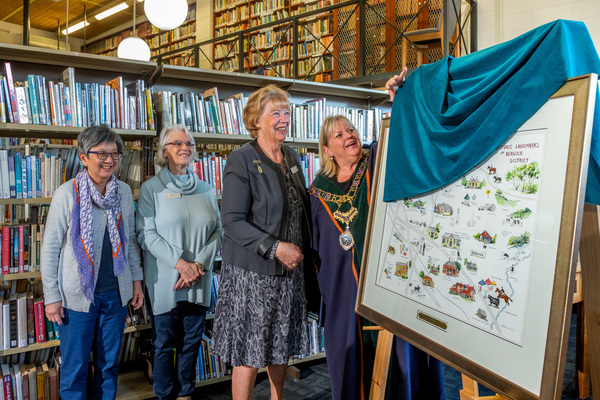 By Brendan Rees
A grand illustration map of Berwick has paid tribute to a valued friend of The Berwick Mechanics' Institute and Free Library Inc.
At their 156th annual general meeting, Casey mayor Amanda Stapledon joined library members in making the honourable presentation of the map on Wednesday 11 September.
The map, illustrated Kathleen Newman, was a gift from the Hayes family in memory of James Hayes, a valued friend of the library.
Joyce Hayes, a 30-year volunteer at the library, was thrilled with the finished work, which shows historic landmarks of Berwick.
Her husband James had spent many hours assisting with the library's first computers, and the map is a lasting tribute to his memory.
The map has been framed and is prominently displayed on a wall of the library where all can see it.
"We have already had visitors who have come to the library just to view it," library manager Judith Dwyer said.
Cr Stapledon said it was a privilege to be a part of the special day to witness a "momentous occasion that honoured a past member".
She described the day as a celebration of a talented artist whose artwork and map of Berwick would "resonate throughout future generations".