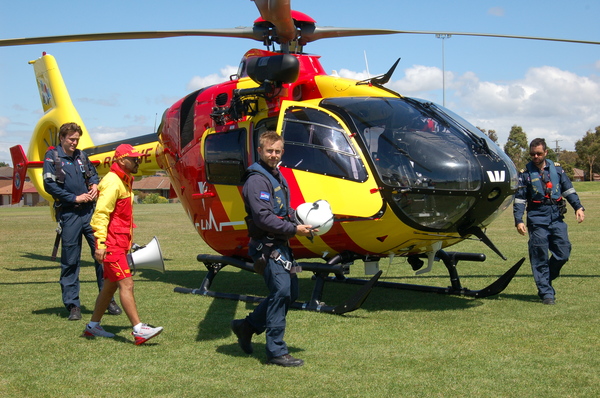 By Brendan Rees
Hampton Park Secondary College have been treated to a flying visit from The Victorian Westpac Lifesaver Rescue Helicopter.
Students and staff watched on as the helicopter landed on the school's oval on Wednesday 4 December.
Volunteer crew members gave a presentation and demonstration of their equipment to teach students about the role the service plays in the community and to reinforce water safety messages before summer holidays begin.
Life Saving Victoria's lifesaving support officer Liam O'Callaghan says the visit aims to raise awareness of Water Safety Week this week and encourage students to look out for their own and others' safety around water this summer.
"We are encouraging students to be aware and prepared before they enter the water, be it at the beach, pool, or inland waterways," said Mr O'Callaghan.
"We will be asking students to think about their surroundings and how they can be safe, by reading the safety signs to understand hazards, swimming at beaches patrolled by lifesavers and always swimming with a friend."
In 2018-19, 56 lives were lost to drowning in Victoria, making it the worst drowning toll in more than two decades.
The Westpac Lifesaver Rescue Helicopter plays a vital role in patrolling Victoria's busy coastline year-round, as well as providing valuable back-up support for other state emergencies and search and rescue operations.
The service assists in incidents such as search and rescue of lost swimmers, shark patrols, beacon location (EPIRB homing), missing boats and fishermen in distress, as well as other incidents as tasked by emergency services.