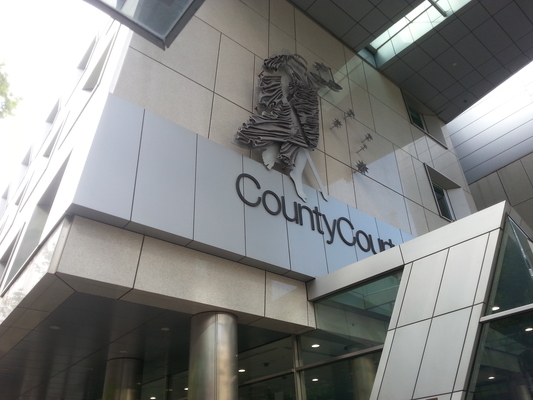 By Brendan Rees
A former church boy turned wannabe outlaw bikie who tried to extort money from a man with threats to "f—-n hurt" anyone at his home has been jailed.
Heihana Burton, 26, pleaded guilty to charges of theft and extortion in the Victorian County Court sitting on 11 December.
The court heard Burton on 9 October 2017 Burton attended Sandhurst Golf Club with co-accused Luke Jolly-bishop and another person, both of whom were Comanchero bikies.
They met the victim who had been asked to hand over registration transfer payments relating to the sale of a Harley Davidson motorbike.
At the time, Burton told the victim he was required to pay $2,000 for the "f–k around with the paperwork"
The victim -"physically intimidated" – then handed Burton his phone number.
The victim paid the $2,000 but the demands from Burton continued including a request to "suss out a gold chain" or pay $300 if he couldn't find one, the court heard.
After the victim spoke to police, police began recording conversations regarding Burton making threats to the victim "unless further money was paid," Judge Robert Dyer said.
This included visiting the victim's home and saying "you're gonna get whoever lives there f—-n hurt mate and it doesn't matter if you're f—–g leaving Melbourne, there's people everywhere."
In November 2017, Burton stole a TV, two canvas posters, and 10 pairs of sport shoes from the victim's home.
He was arrested at his home two weeks later after police carried out a search warrant and recovered some of the stolen items.
Burton, who was born in New Zealand, spent a night in jail before being bailed. But authorities cancelled his visa and he was held in immigration detention until August 2018.
The court was told Burton's family moved to Australia when he was aged seven. He was brought up in a "strict and caring family" and was actively involved in a church community.
As a teenager, Burton was involved in setting up a multicultural program at Lyndhurst Secondary College – which, in 2013, was the recipient of a government excellence award.
The court was told after he left school, he worked various jobs but after experiencing tragic events in his life he began using illicit drugs and alcohol and met "undesirable companions" including members of the Comanchero Motorcycle Club.
In his victim impact statement, the victim said he was "constantly living in fear now and looking over my shoulder every time I leave my house".
In sentencing, Judge Dyer said: "The crime of extortion, in particular is one that requires any sentence to provide general deterrence to others in the community".
Judge Dyer took into consideration Burton had made "acts of genuine remorse" including writing a letter of apology to the victim and offering financial restitution.
He added: "I accept that detention was made more difficult in the circumstances of your underlying mental health condition".
Burton was sentenced to six months jail and a three-year community corrections order upon release with conditions including 150 hours of unpaid community work, and not to be associated with any member of the Comanchero Motorcycle Club.