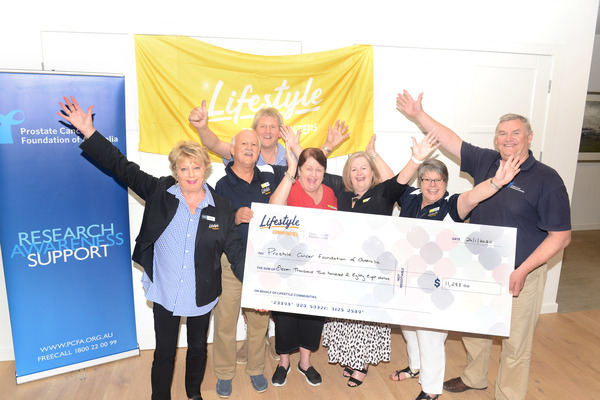 Homeowners at Lifestyle Berwick Waters have raised over $11,000 for prostate cancer through some creative initiatives and the generosity of the local community.
The drive was a passion project for Lifestyle Berwick Waters homeowner Neil Loveless and a like-minded support group, who were alarmed that 1 in 7 men over the age of 50 will contract prostate cancer, claiming 3,500 Australian lives each year.
Neil had previously donated to women's breast cancer charities but noticed less awareness around men's health.
"We need a conversation about prostate and bowel cancer checks which men are notoriously bad at", Mr Loveless said.
The fundraising drive began with a 'Men of Lifestyle Berwick Waters' 2020 calendar, showcasing Neil and friends living their active lives whilst bowling, cycling, gardening, playing pickleball and billiards. The calendar quickly sold out, inspiring other fundraising initiatives like two sausage sizzles and a cake stall at the recently opened Bunnings Clyde North, which donated a dog kennel as an auction prize.
"We're incredibly grateful for the support of Bunnings Clyde North and The Australian Meat Company who gave us a generous price on the sausages for our barbecues," said Mr Loveless.
Lifestyle Berwick Waters community managers, Paula and Peter Newman, also donated a Todd Devine Homes hamper towards a New Year's Eve raffle, raising further funds.
The support of the Lifestyle Berwick Waters homeowners and social committee throughout the fundraising drive was also appreciated.
The Lifestyle Communities Foundation was instrumental to the fundraising success, via dollar matching which took the eventual total to $11,288. The Foundation began in 2015 to support cancer-based charity activities within Lifestyle Communities, in honour of company founder Dael Perlov, who died in 2014 from pancreatic cancer.
Mr Loveless will continue raising awareness of prostate cancer and men's health, because "we don't look after ourselves as much as we should".
In conjunction with the Lifestyle Wellness team at Berwick Waters, he is planning a men's health breakfast featuring expert speakers, along with other opportunities for men to talk more about their health and wellbeing.