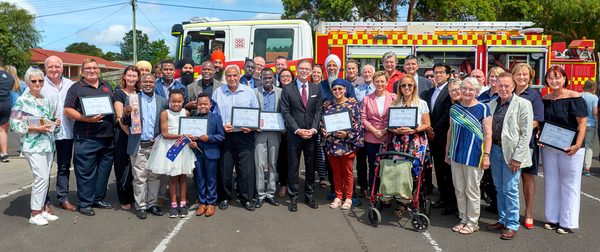 A huge crowd has poured into Hampton Park for Australia Day celebrations where several members of the community were honoured with awards.
Federal Member for Holt Anthony Byrne presented awards to 28 outstanding individuals, two posthumous awards and seven local organisations for their contribution to our community during the Holt Australia Day Awards ceremony held at Arthur Wren Hall on 26 January.Hundreds gathered on the day which featured a barbecue, live entertainment, face painting, market stalls, jumping castle, community displays and more.
The event was an opportunity to recognise people like Sally Francis who volunteers with Riding for the Disabled Victoria and Riding for the Disabled Australia which has earned her an Order of Australia Medal for service to people with a disability and horse sports.
The Sikh Volunteers Association was also recognised with an award. One of the great stories to emerge in the wake of the tragedy that unfolded with the bushfires was the quick response for relief provided by the Sikh Volunteers who served hundreds of meals to victims of bushfire affected communities.
Another recipient worthy of mention was Cranbourne North resident Rebecca Hyland who led efforts within the Tulliallan Community Action Group for five years to stop the development of a Cranbourne East estate on land earmarked for sports fields, with neighbours saying they were "overjoyed" by the result.
Ms Hyland alongside other local residents led a consistent campaign in 2019 with multiple rallies and events to ensure the green space that included soccer and cricket fields was maintained to the benefit of local residents.
Mr Byrne said: "I congratulate all those receiving a Holt Australia Day Award for their exemplary community spirit and endless hours of volunteer work making our community a better and safer place to live."
"Australia Day is a wonderful day when we can recognise those people who contribute to the community and make our community a better place."
The Award recipients include:
Senior Venerable Thich Giac Tin
Aanchal Meshram
Andrew Gai
Bassir Qadiri
Casey Multifaith Network
Colin Butler
Cranbourne Stroke Support Group
Dalvinder Garcha
Deborah Chamberlain
Emmanuel Mabil Majok
Fiona and Colin Crane
Gail Kavanagh
Immanuel Marthoma Church Melbourne
Jasbir Singh Suropada
Jodie Hollis
Kaci Hillis
Kaye Coram
Kelly Warren
Kenneth Drane
Kim Warlond
Dr Leon Shapero
Lindsay Mitchell
Lisa Norman
Louise Berkelmans
Michael Hall
Michael Johnson
Senior Sergeant Niall Waring
Dr Pat Macwhirter
Rebecca Hyland
Rex (Derek) Genoni
Sally Francis OAM
Sikh Volunteers Australia (Australian Bushfire Response)
Simon Walliker
ZimCarrum Soccer Club
Gethsemane Church Charity
Cranbourne Regional Uniting Church Food Truck