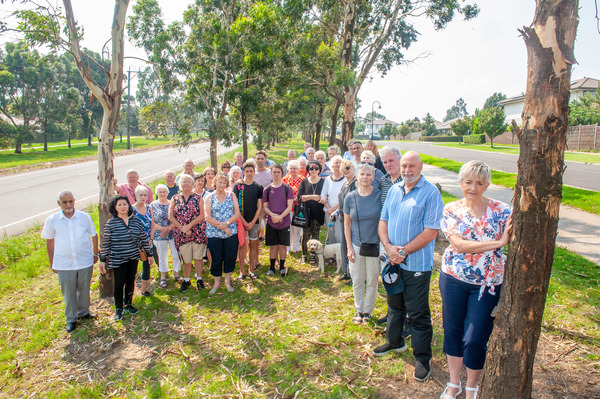 By Brendan Rees
Residents of a Berwick estate are seething with Major Road Projects Victoria (MRPV) with plans to widen a road to six lanes outside their homes without noise barriers. 
As part of the second stage of the Monash Freeway upgrade – MRPV has proposed to add two lanes on O'Shea Road in each direction between Clyde Road and Soldiers Road. 

Once complete, O'Shea Road will be three lanes in each direction and six lanes in total – which is due to be completed in 2022. MRPV says this will create better connections at Beaconsfield and ease congestion.

But residents of Affinity Estate which adjoins O'Shea Road want the project shelved or delayed, saying "at no point" were they made aware the road being widened to six lanes and have also cited concerns of noise, large increases in traffic, and removal of trees. 

Michel Suttie, chairman of Affinity owner's corporation committee, said residents were told the planned upgrade was always for four lanes and "we have had no opportunity to respond to the six lane proposal".

"Despite repeated requests, the MRPV has produced no documentation to support six lanes, no traffic management plan for surrounding streets that will become a rat run, no identification of the authorising person, no impact study and no opportunity for a submission," Mr Suttie said.

He added: "There will be an increase in the number of large trucks descending past the Affinity Estate using their exhaust brakes to slow down, just meters away from homes".

Dozens turned out for a community meeting recently where residents were keen to express their frustrations. 

They were told by MRPV representatives that noise barriers were not needed "as the policy doesn't require as to" – a remark Mr Suttie said was a "contradiction" to what residents were told at a community briefing last year. 

He also said he had viewed an artist's illustration of the O'Shea Road Upgrade on the Monash Freeway Upgrade website "that clearly shows a noise wall installed". According to the MRPV website, the noise policy "does not allow for the provision of noise attenuation in this case".

Mr Suttie said many residents won't be able to enjoy a walk along the footpath "due to the air buffeting and potential water spray off vehicles"- however MRVP contends safety barriers will be installed along O'Shea Road.
"The roadway will only be the width of a footpath from domestic dwellings," Mr Suttie added.

MRVP program director Ray Paterson said they had spoken "extensively" with residents about the project including hundreds who have attended information sessions where "thousands of information sheets" have been handed out.

"Almost half a million people rely on the Monash Freeway daily, so it's vital we improve connections by building extra lanes on O'Shea Road and easing the pressure on Clyde Road," Mr Paterson said.