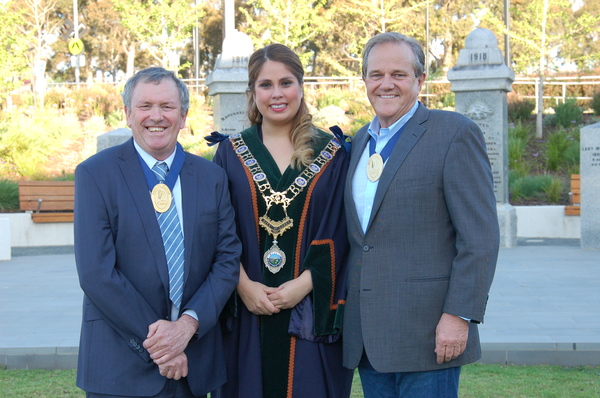 By Brendan Rees
Two Casey councillors have stepped down including deputy mayor Rex Flannery who says the reputation of council had gone "gone down the gurgler" due to the actions of besieged councillor Sam Aziz.
Casey Council confirmed the resignations of Cr Flannery and Cr Tim Jackson on Friday morning 14 February, which were effective immediately.
Cr Flannery said his decision was not "made lightly," explaining "public detriment" had been impacted following Victoria's biggest alleged corruption investigation by the Independent Broad-based Anti-corruption Commission (IBAC).
"Unfortunately I couldn't see a way out of it," Cr Flannery said.
"I've put my heart on my sleeve for the residents … unfortunately you've got to swallow a pill you don't like.
"I'm trying to protect the brand of the City of Casey".
He said he had "no regrets" and leaves with his "head held high".
Cr Flannery took aim at fellow councillor Sam Aziz who he said "was the catalyst for all the issues" at council and described him as "obnoxious" in asking council for an extension of paid leave this month, citing medical grounds.
"He's just beyond belief," Cr Flannery said. "He's just taken it to another level of his arrogance".
"Moving forward I'm not going out to bag any other councillors. I've got no resentment; I've got no hatred towards anybody".
In a statement, Cr Jackson said his resignation was due to no longer holding "confidence in council's ability to exercise decision making to the standard that our residents expect".
"Their behaviour has caused significant reputational damage to the City of Casey and led to the public, including myself, questioning the integrity of every decision this council makes.
"I urge the Minister to act and end the uncertainty at Casey," Cr Jackson stated.
Meanwhile, Casey mayor Susan Serey released a statement saying she wished to "put on record" her "great disappointment with the media coverage speculating on the imminent dismissal of Casey councillors."
"Whilst I appreciate the need for the extra scrutiny of councillors, especially following the revelations at the IBAC at the end of last year, the ongoing speculation and backdoor briefing of journalists has continued to undermine the credibility of councillors and the commitment with which we have turned up every day to represent our communities in extremely challenging circumstances," Cr Serey stated.
She confirmed council had not viewed a copy of the Casey's monitor's report which was to examine it's governance – and therefore council had not had the "opportunity to provide feedback to the Minister either."
"We call on the Minister for Local Government to release the monitors report to Council allowing an opportunity to respond to all MP's," she stated.
"Throughout the monitor's tenure, City of Casey had no indication that the monitor would be recommending the dismissal of all councillors.
"I also call on the State Government to pass the Local Government Bill 2019 which would enable the dismissal of individual Councillors, rather than the whole of Council as currently legislated in the Local Government Act 1989".
A State Government spokesperson said the Government had received the Monitor's final report and is "considering its findings" with the report being "released in due course."
Meanwhile, Cr Flannery said "public sentiment was that council had done the wrong thing".
"The worst part about it is people treated Sam Aziz like he was the messiah … all the people that supported Sam, he's left them high and dry".
Cr Flannery also made reference to a time Cr Aziz called Brendan Browne of the Casey Residents and Ratepayers Association a "loser in exile" at a council public meeting.
"Karma came back and bit him on the bum … Sam is the loser in exile, not Brendan Browne," he said.
Cr Flannery said he hoped Cr Aziz was found guilty and sent to jail: "City of Casey is probably the best council in Australia and now it's gone down the gurgler, and the brand name is being destroyed by one man".
"I've got no time for that. I've got nothing but contempt for him".
Cr Aziz fled to Egypt before IBAC conducted its hearings last year late last year before the IBAC Operation Sandon inquiry began it hearings – where Cr Aziz was alleged to have pocketed $900,000 from a developer.
Looking back, Cr Flannery said he was proud of everything he achieved, particularly "not wasting" ratepayer's money.
"I got my allowances every month – a lot of it I gave away to sports clubs, people in need.
"Hopefully I'll be able to get into some volunteering roles within the community, I certainly don't want to give up helping people out," he said.
In a statement, a City of Casey spokesperson said the "mayor and councillors would like to thank Cr Jackson and Cr Flannery for their service to the Casey community and wish them all the best in the future".
"CEO Glenn Patterson has informed the Minister for Local Government and we now await the VEC to commence proceedings".
The Casey Ratepayers and Residents Association spokesman Brendan Browne welcomed the resignations saying the "writing's on the wall" for council to be dismissed.
"Assuming they will be sacked there will be some very happy ratepayers," he said. "They've lacked transparency all along".