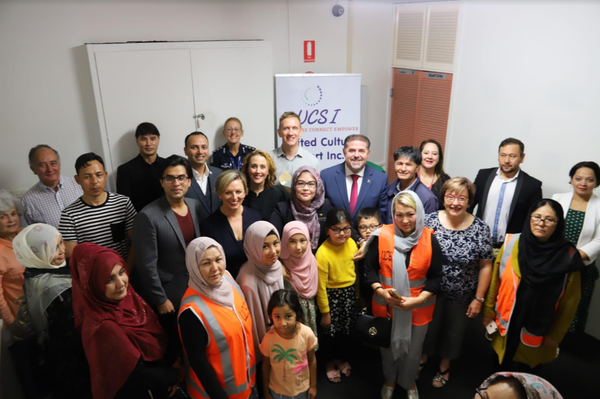 By Brendan Rees
A not-for-profit group supporting people from culturally diverse backgrounds has officially opened its doors in Dandenong.
The United Cultural Support Inc (UCSI) held an office warming ceremony for their new Walker Street office on Saturday 15 February, which was attended by about 30 people including community leaders – who joined a ribbon cutting ceremony to mark the occasion.
The office, which consists of members of the ethnic Hazara community, will aim to promote social inclusion and active community engagement.
The City of Casey and Greater Dandenong has the highest Afghanistan-born population in Victoria and the Hazara are one of Afghanistan's largest ethnic minorities.
President of the UCSI Sadia Ali addressed the audience, saying the new office volunteers would help support the community through educational programs, information sessions including spreading awareness about health, employability and integration of diverse communities.
"UCSI will continue to serve the community, hear your concerns and act upon your proposals," Ms Ali said.
She said the volunteers would also empower community members, help support their self-confidence and self-esteem focusing on women, youth, children and disadvantaged members of community.
Other services include supporting people with special needs, disabilities and at-risk behaviours; family violence, child abuse, drug addiction, gambling and more.
Among those to attend the ceremony was Dandenong MP Gabrielle Williams who described Ms Ali as a positive role model to women and girls in the community.
"Sadia and the many UCSI volunteers are doing their bit by helping our newly arrived Hazara community with employment pathways," she said.
Greater Dandenong mayor Jim Memeti expressed his congratulations to the UCSI team and their dedication to the community.
Cranbourne MP Pauline Richards, also delivered a speech, saying: "I am incredibly inspired by our community's stories of resilience and passion for change".
Federal MP for Bruce Julian Hill was also delighted to join the launch, which he said would provide new Afghan Hazara migrants support and information – "and educating everyone that women in Australia are equal, with the same legal and political rights as everyone else".
City of Casey Citizen of the Year Bassir Qadiri, Victoria Police local area commander Inspector Sharon McCrory, former Casey councillor Damian Rosario, and various community leaders and representatives of community organisations were also in attendance.