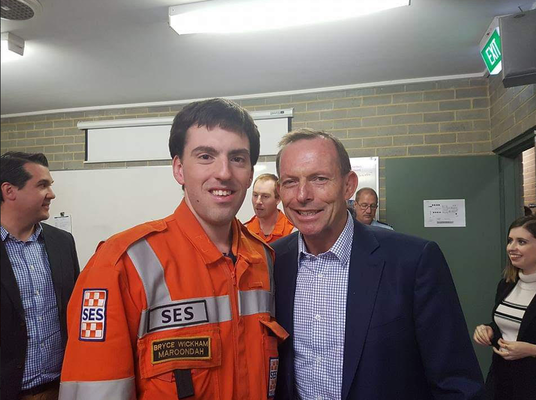 By Brendan Rees
For Bryce Wickham, serving as a member of the Narre Warren State Emergency Service unit gives up a great sense of pride.
"It's a great feeling to be a part of a community and to help those who are in need; especially people who are more vulnerable than others," the 29-year-old said.
Mr Wickham is among thousands of Australians who are being celebrated as part of National Volunteer Week from 18-24 May, which highlights the selfless acts of service by volunteers to support the community.
Since joining the SES in 2010 at the Maroondah SES unit before transferring to Narre Warren in 2018, Mr Wickham says he loves the varied challenges that come with the role – whether it be trudging through floods, removing hazardous tree or climbing onto rooftops during severe storms.
"Being a volunteer with the SES definitely opens your eyes to many things – good and bad – but I wouldn't change a minute of it," he said.
"While training as a duty officer earlier this year, we received a call that an elderly person with possible dementia had gone missing.
"My role was to organise crews from our unit and the surrounding units to assist Victoria Police in the search. Thankfully, the person was found alive and well. While watching the story being told on the news the next day, I felt incredibly proud of the role I played and also proud of my SES family."
During his service, Mr Wickham has been awarded a five years' service medal and probationary member of the year award.
He has also been deployed twice to New South Wales including assisting towns in the midst of a bushfire crisis during the summer of 2015-16 and the other in 2015, when he was part of taskforce Delta that assisted SES New South Wales after floods ripped through the region.
When not volunteering, Mr Wickham usually works as a ramp handler at Melbourne Airport, however, as a result of the Covid-19 pandemic, he was stood down and has been actively looking for work.
"What has kept me sane and given me purpose, is the fact that I've been able to increase my volunteer activities within the SES. I'm just waiting for when I can go back to work.
"Hopefully, it won't be too much longer."
Meanwhile, with the stay-at-restrictions in place, Mr Wickham says the unit's face-to-face training has been swapped for online meetings and training.
"No matter the time – yes, it can be 4am when we've just got back to the unit after a job – we wipe down the vehicles and any equipment used, this ensures the safety of the next team who are called out on a job."